Positive Culture Sets Companies On Path To Growth
Corporate culture sets a tone for an entire organization's ethos. Setting a positive foundation within an office permeates throughout its workforce and sets it on a course toward higher aspirations. As corporations scale it can be hard to sustain culture, but those who emphasize it see tangible returns.
Online shoe retailer Zappos has become as synonymous with corporate culture as it has with footwear. It set itself apart from many companies by evaluating a person's natural fit with the company and its values throughout an unconventional hiring process. To begin with, the company's initial cultural fit interview bears 50 percent of the weight in the hiring process. Zappos' employees have cited months long hiring processes that involve meeting the current employees in informal settings to develop relationships. Once hired, every employee (no matter the position) must go through a 3-4-week initial training at its call center; taking calls directly from customers.
The unconventionality only continues after the the call center training. Once an employee has completed their initial training, they are offered $3,000 by the company to quit if they desire. This "buy-out" is Zappos' out-of-the-box idea to weed-out hires that are there simply for a paycheck.
Employee pay raises are rewarded off skills-based tests, not cozying up to management. Zappos even publishes a yearly culture book, written by employees, that details every important aspect of the company's culture and working environment; painting a transparent picture on the values and how to develop positive relationships within the company.
The Zappos model is thorough, unconventional, and successful. As a result of their focus on company culture, they have seen the lowest turnover rates in their 20 year history; a statistic every company should want to hear.
Latest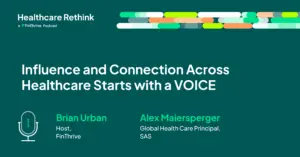 September 29, 2023
In the latest episode of the Healthcare Rethink podcast, presented by FinThrive, host Brian Urban sits down with Alex Maiersperger, the Global Principal Healthcare at SAS. Their conversation charts the role voice plays in influencing and connecting the healthcare industry. Maiersperger, who co-founded the Advancement League, shares his journey from being a healthcare optimist to […]
Read More