Predicting Consumer Behavior and Recruiting Employees Are More Similar Than You'd Think
On MarketScale's newest retail-focused podcast, Point of Scale, host Courtney Johnson sits down with retail leaders in order to understand the challenges they face throughout their sales cycle and how they stay one step ahead. From employee engagement to customer experience and everything in between, it is all tied to the journey of scaling your sales.
Rachael Kelly, chief people and culture officer for Smokey Bones, The WingX and The BurgerX, began her career in the quick service restaurant industry by working her way up from an hourly cook at Pizza Hut to her current position in a senior-level role at a large, casual-dining restaurant in the eastern U.S. Kelly discussed the importance of building a culture and maintaining an employee- and consumer-first mindset with Point of Scale's Host, Courtney Johnson.
As much as companies think about and predict consumer behavior, Kelly believes the same principal should be applied to employee recruiting and retention.
"You do the same thing for the labor force. Recognizing what's going on and what's important to people … was the first part of our strategy, and that was the rebirth of our culture and how we approached rewriting our values," she explained.
This mindset has improved the hiring process undoubtedly. However, when you add in leveraging technology to optimize and automate processes, they now have an expedited process that increases the hiring rate — by eight times. Focusing on improving their internal processes has clearly proved lucrative, like earning a reputation of a great place to work.
"We built our brand so strong from the inside out that people externally hear it and they're attracted to it," Kelly added.
Improving workflows wasn't the only way they've built a robust workforce and culture. The company also likes to throw in some fun and personalization, like collaborating on the platform GroupMe. The technology has enabled efficient and quick communication between leadership, managers, and hourly and full-time workers, which has helped with improving employee morale and achieving more buy-in on new changes.
While many restaurants are raising prices to combat inflation, Kelly said the company is looking to stand out from the rest and look for ways to decrease costs in operations while maintaining the same quality and pricing as before.
Providing a little teaser, Kelly said to look out for new products in February, specifically describing the brisket mac n' cheese sandwich — now, who's hungry?
Latest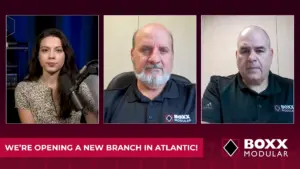 December 4, 2023
In an era where construction innovation is reshaping the industry, modular construction's growth continues to rise. In this episode of Built Modular, Boxx Modular's strategic expansion into Moncton, Atlantic Canada takes center stage. Host Gabrielle Bejarano welcomes Charles Landry and Ray Girouard to explore the implications of this venture. Bejarano, Landry, and Girouard discuss […]
Read More