Even With Mass Retail Industry Layoffs, Retailers Should Improve Hiring and Retention Strategies
Talks of an impending recession have been looming the past year, and several industries have been experiencing sales dips, including the retail industry. The demand for retail and ecommerce products that spiked during COVID and more recently during the 2022 holiday season is hitting a lull now, with department stores like Nordstrom experiencing declining retail sales of 3.5 percent the last part of 2022 versus 2021. As a result, retailers are being more cognizant of spending, hitting retail industry layoffs hard early in 2023 with large year-over-year increases from 2022.
Just how hard are they hitting layoffs? Well, retail industry layoffs are only second to the tech industry in number for January 2023, cutting 13,000 jobs, which amounts to a whopping 3,225 percent increase year-over-year, according to a report from Challenger, Gray and Christmas. Plans for hiring seem meager at most, with retailers stating they plan to hire only 615 employees, a sharp drop from the 5,901 in January 2022.
How are retailers' faring with their talent pools as retail industry layoffs continue and they simultaneously struggle to retain quality workers? April Sabral, President and Founder of retailu, shares her thoughts on the current wave of retail industry layoffs and what needs to be done to better hire and retain talent amidst the layoffs.
April's Thoughts:
"Even though we may be hearing retail layoffs are up year-over-year, it's relevant to where we were last year. This time last year, stores were struggling to stay open with spikes in COVID, along with coming out of a tough season on hiring. So, if we're considering layoffs in comparison, this does make sense, but it doesn't give an overall substantial view on the retail industry at large.
The struggle to find retail workers is real, and if you're not transforming your recruitment approach and trying in other ways to incentivize young people to join the industry, things that will inspire this generation to work in retail is safety and support. I'm seeing a trend on gathering retail field leadership teams together for the first time in three years to invest in their training, and I'm a big believer in training and development as a retail operations leader for over three decades.
Exit interviews from previous employees that I had read were always talking about leaving because of two top reasons. The person that they work for, career planning and training and developing them, they want to be confident and successful in what they're doing. So, I don't believe that this has really changed, but I do believe the lack of tolerance for poor leadership has meaning that if the manager does not know how to create a positive workplace, staff just won't stay anymore. Young people will not stay.
And now with social media, brands need to work even harder at their brand culture to attract workers. I hear the struggles from many leaders in my retail networks, but then I see the other side of the coin where stores are fully staffed, and it comes back to what I just shared.
I do think the struggle will continue. And if you don't look at your leadership practices, benefits, programs, and pay, then, you know what, this could be a problem that you continue to face. Like I said, young people want to have their opinion heard and they have a lack of tolerance for anything else. Do I believe that we're going to continue? Yes. But do I believe we can change it? One hundred percent."
Article written by Cara Schildmeyer.
Latest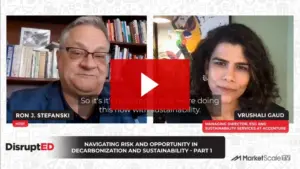 September 26, 2023
The global conversation has shifted dramatically towards decarbonization and sustainability in recent years. With the world experiencing unprecedented levels of disruption, from 5G technology to the challenges of a pandemic, the urgency to address climate change and its implications has never been more palpable. Although most business leaders see the vision of Sustainable Development […]
Read More