Retail, NEXT, Continues To Struggle
Next has become the latest retail outlet to record a negative performance admitting that "2017 was the most challenging year we have faced for 25 years."
The company reported an 8.1% fall in annual pre-tax profits to £726.1 million, while total sales dropped 0.5% to £4.1 billion.
Revenue at its shops slumped while online revenues grew by nearly 10% which helped soften the blow.
New Look cut 60 stores putting nearly 1000 jobs at risk
Jobs at risk as as Carpetright plans store closures
Chief executive Lord Simon Wolfson said its poor performance was due to "a difficult clothing market coincided with self-inflicted product ranging errors and omissions.
Latest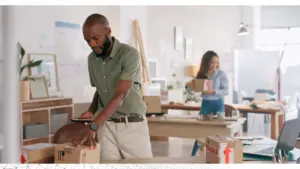 November 29, 2023
While the logistics industry often gravitates toward cutting-edge technology, Wesley Boyce, an Assistant Professor of Practice in Supply Chain Management and Analytics at the University of Nebraska-Lincoln, brings to light the enduring significance of radio communication. In a world enthralled by digital innovation, he argues that the simplicity of radios could be their greatest […]
Read More