Retail Theft is Pushing Stores to Weigh the Risk of Keeping a Physical Presence
In today's retail landscape, the role of brick-and-mortar stores has been under scrutiny, especially with the rise of online shopping and retail theft. The iconic San Francisco Centre Nordstrom store, a downtown staple for over three decades, has permanently shut its doors, reflecting the city's changing dynamics and rising crime rates. Retail theft has even gone so far in some places, such as local Target stores in Santa Monica, that less valuable goods are now protected by locked cabinets.
With the prevalence of online shopping and retail theft forcing some stores to close or drastically change their security measures, the purpose and function of physical stores is now shifting. Despite what some may think, the experience of visiting a store, interacting with products, and soaking in the ambiance is irreplaceable. But retailers must adapt, ensuring that their locations serve their clientele and that security measures don't detract from the shopping experience.
How can retailers fulfill the cravings that consumers still have for the physical shopping experience, and when should some retailers draw the line if the risks of staying open due to retail theft are too high? Katrijn Gielens, Professor of Marketing at the University of North Carolina, gives her analysis. Prof. Gielens is an expert in all things retailing and channel management, with a research focus on digital and brick and mortar retailing strategy, as well as relationships between retailers and brand manufacturers. 
Katrijn's Thoughts:
"Because those are the ones that are putting everything behind sort of lock and then sort of like trying to sort of make sure you cannot even no longer touch the products.
When we go back to the likes of the Nordstroms, to them I think the shrinkage story is somewhat the last drop. This is where they say it's no longer sort of like defending or sort of like justifying why we have a store in, let's say, downtown San Francisco. Shoppers and consumers have so many different alternatives.
You do not have to go to an actual store. That you can actually sort of go online. You may actually, there may be different locations. This is something that you can postpone. And once again, what is it that you want to get out of your store visit? That is an experience, that is being able to interact with the product in a sort of nice way.
We can argue whether the location is still the right one because you sort of still assume very populated and whatever. You have to know where your shoppers are coming from. If those other people are no longer visiting that location, which may also be in part because of some of the crime issues, then what are you still doing there? Your store needs to sort of fulfill certain roles. What are the typical things that you can do? You can work on security. But what if security become such an issue that it sort of takes away from the experience?
And we now turn to the CVSs of the world where you go for necessities, it may be different. You don't necessarily have that need to sort of touch and feel the products. You can perhaps still function with it being locked. Retailers like Nordstrom, they need to sort convince people to come to the store, right? Especially these days because you have so many online options. Part of why stores still have a purpose is because people want to go for the experience.
When you start to sort of try and fight sort of the shrinkage increasing all kinds of security measures and locking everything up, not being able to touch and feel products, the role of the store is completely annihilated. There is no longer a reason to go to the store. So, whatever you try to do to fight sort of the crime issues or the shrinkage is running counter to creating a store experience.
A couple of years ago, and especially during the pandemic, we were saying, oh, stores are a thing of the past. Well, I can tell you that is not true. Stores are very much here to stay. It doesn't matter who they are, who or what they are, whether they're sort of like digital natives, like Amazon or a Nordstrom. You need stores for various reasons. But they actually need to use them in a clever way rather than what you had in the past where, you know, shoppers would come to you, whatever you were, you now need to sort of, like, dig the shop and actually follow the shopper around. Follow it with a clever, smart, smaller type of concepts. And of course, when you then look at your conventional sort of locations to begin with and those big boxes, that's not going to work. For instance, going back to San Francisco. I mean, I think we all know that there are many things going on there. Employees did not come back after COVID. The downturn is deserted.
So, in that entire philosophy of stores needing to be near where your shoppers are, it doesn't serve a purpose. If then you start to factor in that your cost structure is going up because shrinkage is going through the roof, then what are you doing? So, it to a certain extent, it sort of accelerates a sort of like decision that probably was already in the making. And, yeah, once again, it will be the reason why, but not just the reason, but one of the many reasons why you see the likes of Nordstrom leaving places like downtown San Francisco."
Article written by Cara Schildmeyer.
Latest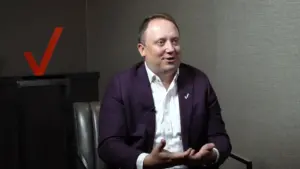 December 1, 2023
For a special episode of The Verizon Partner Network the focus was on the considerable role of partnerships in the Verizon Partner Program and the leaders shared their perspectives on the initiative. Their conversation brought about a lot of thought-providing context on the evolving telecommunications landscape. In today's era, collaboration and integration are key to […]
Read More