Retailers Need to Enhance Omnichannel Consumer Experience to Benefit
According to the National Retail Federation, almost 200 million consumers were shopping over Thanksgiving weekend. The NRF reports that "the total number of shoppers grew by nearly 17 million from 2021 and is the highest figure since NRF first started tracking this data in 2017", this growth being in large part to the record-breaking online shopping revenue. This year's Thanksgiving weekend shopping goes to show that e-commerce is a large part of the retail industry and will continue to be in the coming years. Many companies that have been the most successful this year have a strategy to enhance omnichannel consumer experience allowing consumers to shop where and when they want, whether that's in-store or online.
So, what should the retail industry take away from these record-breaking statistics? The retailers deciding to enhance omnichannel consumer experience will benefit moving forward as e-commerce continues to grow. Jasmene Bowdry, Retail Consultant & Strategist at The Mache Group, encourages retailers to think about how they can offer the same experience for shoppers in brick and mortar and e-commerce. Bowdry opines that retailers should already be thinking about the discount packages they can offer in 2023, not only Black Friday weekend, but throughout the year.
Jasmene's Thoughts
"This past Black Friday and Cyber Monday, the retail industry saw insane record numbers, 196 million people shopped. This means that e-commerce is not going anywhere. It is going to continue to grow, and if you have not been maximizing your omnichannel strategy in your business, you're behind. What these numbers show is that consumers like to shop online.
Yes, there will always still be a presence for physical retail, but you need to be able to tie that into your overall omnichannel experience, how can they go search online and then come to the store and feel the same experience? Or vice versa, how can they come to the store and have that same experience online?
My advice is for retailers to maximize on this opportunity and on these numbers by seeing how they can recreate Cyber Monday-type of traffic to their online website. What other types of discounts can you offer throughout the year versus just one time during the entire year? Start planning for next year, start planning and thinking about what those Black Friday and Cyber Monday deals can be so that you can capitalize on all of the traffic that's going to come next year."
Latest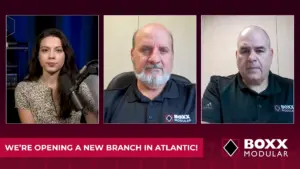 December 4, 2023
In an era where construction innovation is reshaping the industry, modular construction's growth continues to rise. In this episode of Built Modular, Boxx Modular's strategic expansion into Moncton, Atlantic Canada takes center stage. Host Gabrielle Bejarano welcomes Charles Landry and Ray Girouard to explore the implications of this venture. Bejarano, Landry, and Girouard discuss […]
Read More