Retailers Race for Fastest Delivery
Ever since Amazon's acquisition of Whole Foods and the genesis of same-day, two-hour delivery from the grocery chain, traditional retailers have been scrambling to respond. Last week, Walmart relaunched Jet.com, a company it acquired in 2016, in hopes that it can target an urban market while delivering on its promise to expand same-day shipping services. This move by Walmart is a sure sign the company is taking the same-day shipping trend seriously and aiming to one-up its competitors, too.
The Jet.com relaunch will serve customers in New York City whose shopping needs go beyond a grocery list, offering products ranging from clothing to electronics and beauty supplies. Walmart will use Jet.com's Bronx, NY-based fulfillment center to meet the high demands of three-hour shipping in the city.
Beyond the big apple, Walmart is also trying to corner the international market for crowdsourced delivery and same-day shipping. Also last week, the retail giant announced its acquisition of the Mexico and Chile-based grocery delivery service Cornershop for $225 million.
Utilizing the resources of crowdsourced delivery similar to services like Instacart and UberEats, Cornershop employs contracted workers to deliver goods from grocery stores, delis, and liquor stores all in the same order if necessary.
The company has been silently building an international presence in the world of same-day delivery with other investments like August's $500 million investment into Dada JD-Daojia, an online Chinese grocery service, while Amazon is also trying to consolidate the global delivery market.
Last year, Amazon bought Souq, a Dubai-based e-commerce site which has been described as "the Amazon of the Middle East" that is said to give Saudi citizens access to over 1 million products from Amazon's Global Store. With the Cornershop acquisition expected to make regulatory approval by the end of the year, Walmart is sending a clear message to Amazon and other retailers competing with similar services worldwide that the retailer is all in on delivery.
Latest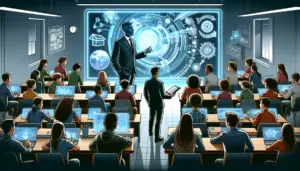 November 27, 2023
In an era where education stands at the crossroads of tradition and innovation, the potential value of thought leadership becomes the guiding star for progress. "Just Thinking" dives into this potential with host Kevin Dougherty and guest Evan Edwards, a Professional Learning Specialist at 806 Technologies who exemplifies the transformative impact of visionary guidance […]
Read More