Retailers, Truckers and the Future of Shipping
The long-haul trucking industry is scrambling for ways to attract more workers in a competitive job market. Trucking has seen some dramatic changes in the face of the popularity of electric and driverless vehicles, rising fuel prices, and an overall higher demand from companies.
While the Department of Transportation is currently exploring rule changes that would effect hour-limits on a long-haul driver's shifts and some states are assessing whether to raise the age of eligibility for commercial truck drivers from 18 to 21, several large corporations are shelling out large financial incentives in hopes their driver fleet can continue to grow.
Walmart is the biggest company of late to make significant moves to attract new truck drivers. In an almost complete overhaul of their hiring process, the retail giant is not only offering prospective truck drivers higher salaries and notable bonuses, it is also aiming to dramatically shorten a lengthy hiring process. With the average worker waiting up to 70 days before joining the company's fleet, the big box and ecommerce chain is seeking to reduce that number to just 30.
Unfortunately, the trucking industry and its workers will continue to encounter problems in the future. As Tesla prepares its electric semi-trucks for production next year, the University of California at Berkeley recently released a study showing that out of the 2.1 million trucking jobs across the country, almost 300,000 are at risk of being replaced by driverless technology.
In an industry with more than a quarter million vacancies by the end of Q2 in 2018, other big-name corporations may be forced to raise benefits, salaries, and working conditions if they want to attract the next generation of truck driver.
Regardless, the trucking industry is potentially entering a state of flux and its role in retail may be redefined by technology.
A labor shortage is bad news in the meantime and companies are having to find ways of accommodating truckers while simultaneously figuring out what role this workforce will play in their long-term business models.
Latest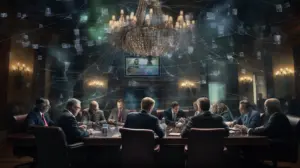 October 3, 2023
In August 2023, the National Institute of Standards of Technology (NIST) put out a request for comments on the Preliminary Update from the Internet of Things Federal Working Group (IoTFWG), which aims to provide the nation direction on how to improve IoT adoption and expand its use cases for the future of industrial, corporate, […]
Read More