Study Shows Augmented Reality Gaining Foothold in Retail
Augmented Reality (AR) has taken technology and the droves of young people using it to exciting new places. One of the first big examples of the consumer power AR can have was the Pokemon Go craze of 2016. The interactive cell phone app attracted consumers by transforming the world around us into a virtual Pokemon gym—using their surroundings to superimpose virtual Pokemon that users could catch and battle with friends. This new technology took the nation by storm and now retailers are trying to bring this innovative tech to the storefront.
ABI analytics published a new report outlining the rising trend of AR in retail and found out what kind of AR technology works best for both online and brick-and-mortar stores. One of the highlights the report discussed was smart glasses—an often overlooked new technology that incorporates AR. According to ABI, smart glasses are actively targeting retail to assist with front- and back-of-store operations. It estimated that by 2022, more than 120,000 stores globally will be using AR smart glasses.
Another way AR is being used in retail comes from the virtual shopping experience. Lacoste released a mobile phone app, LCST, that users can download and use to virtually try on shoes and view the clothier's selection before ever stepping foot in a store. The app helped over 30,000 consumers interact with its virtual shoe selection—a number showing the power AR can have.
It seems that AR could be a solution to drive people back into physical storefronts from the popularity and buying power of online shoppers. AR has an advantage in digital commerce over traditional retail where tech like it can simply encumber customers' experiences rather than enhance it. ABI also predicted that, by 2020, 3% of e-commerce revenue will be linked to AR experiences, representing $122bn in revenue worldwide. Consumers are always looking for a new, fresh way to experience an everyday activity and whether it be shoe shopping or Pokemon hunting—AR is here to shake things up for a while.
Latest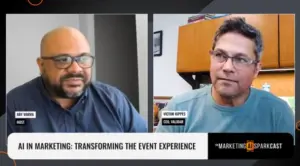 November 28, 2023
AI has been gradually changing the landscape of event technology at a very rapid pace. In an industry where staying ahead of technological trends is crucial, AI's impact on marketing and event management has become increasingly significant. As witnessed in the rise of account-based marketing and enhanced personalization, AI is effectively reshaping how events […]
Read More