The Future of Retail: What's Changing in 2019 and Beyond
It's no secret that the future of retail will look markedly different than in years past. Driven by competition, consumer trends and changing technologies, brands are seeking innovative ways to satisfy their customers.
As more shoppers opt to purchase online, there have been many predictions on the future of retail, and in particular, retail warehousing. This has forced brands to focus even more on the efficiency of their space through automation and other processes.
The Predicted Role of Cold Storage
Although e-commerce has globalized the retail economy, Supply Chain Brand predicts that the future of retail will actually become localized. Further, consumer demand for express (same day or next day) delivery continues to increase in all retail segments, including the food and grocery sector.
"We've come to expect a fully integrated experience that combines one-click buying, free two-day delivery and easy returns at our local corner store. And we now know that if our favorite retailer can't deliver it when we want it, our favorite online juggernaut certainly will," Marc Golin wrote in Supply Chain Brand.
Also, Reuters reports that store pickups accounted for nearly a third of U.S. online sales during this past Christmas season. Retailers unable or unwilling to adapt to these rapid delivery and easy pickup trends risk losing out to any one of the dozens of e-commerce providers that can deliver the same product within the desired timeframe or provide click and collect services for their customers.
In this ever-evolving retail environment, cold storage is a key asset for the food and grocery industry, keeping products fresh and safe before and during delivery.
Shifting the Future of Retail
Shoppers are continuing to set the pace in retail, and the ecosystem is far from a finished product. Forbes predicts five changes coming to retail in 2019:
The virtual mall
The rise of social commerce
Pop-up retail
Checkout-free retail
Each of these expectations points to the fact that retail is about speed, experience and the blend of in-store attention with e-commerce convenience. Further, autonomous warehouses that can reduce pick-and-pack expense and simplify other processes through robotic automation while decreasing labor expenses are coming to the forefront.
In fact, automation has already been a focus of some of the biggest brands in the world. Amazon, for example, has made a point to acquire autonomous technology companies to improve distribution practices and other tasks within its warehouses. Further, WalMart is spending $11 billion to improve store efficiency and the customer experience, with an emphasis on technology improvements. WalMart plans to have a total of 1,700 pickup towers, 3,100 grocery pickup locations and 1,600 grocery delivery locations by the end of this fiscal year, showing that their click and collect solution usage is only going up.
As e-commerce continues to push higher customer demand for speed, variety and quality of product delivery, the successful retailers of the future will refine their operations to meet ever-changing consumer expectations and new distribution trends.
Cold Storage Takes on the Last Mile When it Comes to the Future of Retail
The last mile is as important as any step in the purchasing process. Assuring customers that their order is in suitable condition and delivered in a timely manner is critical because it is now a standard expectation
Dataex sites an FMI/Nielson report indicating a projected growth to $100 billion by 2024 in the online grocery market, meaning proper storage is a real and crucial necessity today. However, to compete with e-commerce juggernauts, local stores will have to expand value-adds and accelerate inventory turns despite a tightening labor force.
Retail has always operated on small profit margins, and e-commerce has only made efficiency more important. Concerns in energy consumption and third-party warehousing costs make finding the right cold storage service vital.
Consumer-facing products and solutions will always be important, but retailers are finding that back-of-house processes and tools are extremely important in today's retail landscape. Finding ways to be more consistent, cutting overhead and operating in less space are all important to make the most out of a company's available budget.
Cold storage solutions from KPS Global® allow retailers to transform their supply chains into micro-warehoused, hyper-localized distribution networks. KPSG's professional in-house design and engineering teams design to specifications, ensuring solutions that integrate different temperature levels into a storage space, providing smart, convenient cold storage units that make sense for each unique business.
To see how cold storage units are propelling the future of retail, click here.
Latest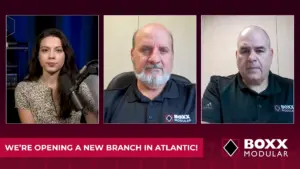 December 4, 2023
In an era where construction innovation is reshaping the industry, modular construction's growth continues to rise. In this episode of Built Modular, Boxx Modular's strategic expansion into Moncton, Atlantic Canada takes center stage. Host Gabrielle Bejarano welcomes Charles Landry and Ray Girouard to explore the implications of this venture. Bejarano, Landry, and Girouard discuss […]
Read More