Watch: Walmart Closing In on Acquisition of India's Largest Online Retailer
Walmart is nearing a deal to acquire a majority stake in 'Flipkart', India's largest online retailer. Only about 2 percent of India's retail sales are done online today, but with a population of almost 1.5 billion, Walmart is trying to get ahead of an e-commerce boom. Flipkart was founded in 2007 as an online bookstore, but much like Amazon, now sells a diverse array of products across many categories.
Amazon has spent a reported $5.5 billion in India and this move appears to be a counter move by its primary rival, Walmart. A study conducted by Deloitte predicts the size of the e-commerce market in India will eclipse $50 billion in 2018.
Latest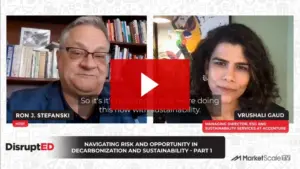 September 26, 2023
The global conversation has shifted dramatically towards decarbonization and sustainability in recent years. With the world experiencing unprecedented levels of disruption, from 5G technology to the challenges of a pandemic, the urgency to address climate change and its implications has never been more palpable. Although most business leaders see the vision of Sustainable Development […]
Read More