When Retailers Move Out, What Moves In?
The ecommerce boom has caused a seismic shift in the way consumers shop, and has forced the retail market to reinvent itself. This revolution has not only changed retail strategy, but real estate strategy as well. Stores have been closing their doors, leaving thousands of empty storefronts across America.
However, with necessity remaining the mother of invention, entrepreneurs continue to become more creative, filling these old spaces with some fresh new concepts as well as some repurposed spaces and some recycled tried-and-true business ventures.
So, here is what is happening to those empty stores in 2018 and moving forward. First, pop-ups have proven to be a great kick starter for a classic brand or jump starter for a new idea, especially during holiday seasons.[1] In addition, experiential retail is one of the hottest new markets on the scene today.
Millennials especially appreciate the human element in their shopping ventures, and this concept meets those needs. There is a growing trend toward environments in "which things are happening" while consumers shop, and shoppers love the immersive experience. These empty spaces provide a great opportunity for such retailers.[2]
Some solid long-time giants are trimming their square-footage and continue to open new stores in the vacant areas as well. Target is experimenting with some smaller stores, as many as 130 by the end of 2019.
Whole Foods is set to open 16 new stores in formerly vacant spaces, capitalizing on the smaller size and its better fit in a strip mall environment than its classically larger stores.[3] Another interesting use for the empty spaces has been seized by a surprising real-estate sector—co-living—which is providing creative housing opportunities in areas all over the nation.[4] In fact, America's very first indoor shopping mall now provides housing.
In a rather ironic turn of events, the cyber-retailers partly to blame for this real estate challenge are beginning to open some brick-and-mortar locations. For example, Warby Parker, an online only eyewear designer and retailer, plans to open 100 stores by the end of this year.3
The United States may have been over-stored, but that real estate can still be valuable, even to retailers, so long as the tenant can find a creative use for a space.
[1] https://www.forbes.com/sites/richardkestenbaum/2017/05/30/this-is-what-will-happen-to-all-the-empty-stores-youre-seeing/#521ecacc4bb7
[2] https://www.npd.com/wps/portal/npd/us/news/tips-trends-takeaways/experiential-purchasing/
[3] https://www.bisnow.com/national/news/retail/thats-no-retail-apocalypse-new-concept-stores-are-taking-vacant-retail-spaces-88119
[4] https://medium.com/purehouselab/the-co-living-space-of-the-future-repurposed-retail-space-fdf13201c3db
Latest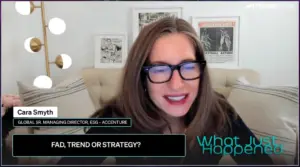 November 30, 2023
The world is in an era where sustainability and responsible retail business practices are increasingly crucial. For the latest episode of "What Just Happened," host Christine Russo further explored the hows and whys of this pressing issue by interviewing Cara Smyth, Global Senior Managing Director for ESG and Responsible Retail at Accenture, and Chair […]
Read More