Why Consumers are Increasing Luxury Spending
What better time to run a quick spending spree than right after the fall of Covid? As the world recovers from the pandemic, a surprising trend has emerged – consumers are increasing their luxury spending despite the overall reluctance to spend. A recent survey by Criteo, an online advertising firm, found this trend across all income levels. So, what is driving this trend, and can it continue?
According to a report by McKinsey & Company, the pandemic has created a K-shaped recovery, with the top 20% of earners seeing their wealth increase while the bottom 80% have experienced a decline. This has resulted in a surge in luxury spending, with consumers using their extra cash from stimulus checks and curve spending from shutdowns to purchase high-end products and experiences.
In addition, luxury brands have become more accessible to consumers, thanks to the rise of digital shopping channels and social media marketing. Brands are investing in these platforms to access Gen Z consumers who are not yet financially independent but are expected to become valuable consumers in the future.
However, this trend may not be sustainable in the long run. The report by McKinsey & Company suggests that if macro conditions remain uncertain, the 80% of luxury clientele who are nearly wealthy or aspirational may pull back. On the other hand, the remaining 20% who are ultra or very wealthy make up the majority of sales, indicating that luxury spending may continue to be resilient in relation to the broader retail landscape.
Here's what Chelsea Zhang, Vice President at Equal Ventures, has to say on luxury spending:
Chelsea Zhang's Thoughts:
"Consumers of all income levels exit the pandemic with a ton of extra cash from stimulus checks or curve spending from shutdowns. Revenge spending was rampant. Consumers embraced a "life is too short" attitude and unleashed pent-up demand for luxury products and experiences. Luxury itself has also become way more accessible.
Luxury markets are pushing into digital shopping channels or investing in social media to access the Gen Z consumers who don't have the buying power right now but will age into incredibly valuable consumers. Going forward, if macro conditions remain uncertain, the 80% of luxury clientele who are nearly wealthy or aspirational will pull back.
The remaining 20% who are ultra or very wealthy do make up the vast majority of sales, so luxury market will likely remain relatively resilient in relation to the broader retail landscape."
Latest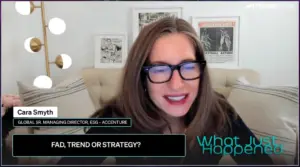 November 30, 2023
The world is in an era where sustainability and responsible retail business practices are increasingly crucial. For the latest episode of "What Just Happened," host Christine Russo further explored the hows and whys of this pressing issue by interviewing Cara Smyth, Global Senior Managing Director for ESG and Responsible Retail at Accenture, and Chair […]
Read More