Top Brands Are Marketing Over the Metaverse. Should Your Company Do the Same?
Since Meta's 2021 launch, the business world has felt a more acute buzz for the inherent potential surrounding the metaverse. Billed as the future of the internet, this nascent but growing web of digital 3D worlds gives people and companies the ability to interact in more holistic ways. Big names like Gucci and Lego have jumped right in, embracing the potential for marketing and brand awareness wins in the metaverse. For companies of all sizes, not just luxury retail or leading toy brands, how should they start strategizing for and deploying marketing over the metaverse? How are other leading brands taking on this marketing challenge?
Here's why the Metaverse is being called the future of marketing: By 2024, it will be an $800 billion market. Most major industries are grappling with the role of the metaverse in their larger ecosystem of sales channels, customer acquisition, and customer experience. For game developers, marketing over the metaverse is an easy pitch. Epic Games, the parent company for Fortnite, raised $2 billion to fund its expansion plans for the metaverse to build a kid-friendly metaverse ecosystem.
Even companies like Coca-Cola and Selfridges are setting up virtual shop in the metaverse, offering virtual soda and virtual department stores. A virtual Gucci bag, for instance, sold for over $4,000 on Roblox! High-end fashion retailers Ralph Lauren and Balenciaga have even collaborated with Fortnite to bring digital fashion to gamers. The message is clear: Brands want to create immersive worlds to attract millennials and Get Z, or at the very least create an association between the metaverse and their brand.
With the metaverse still finding its footing as an industry and ecosystem, how should companies weigh the ROI and brand value of marketing over the metaverse? Jason Yim, founder of XR development and strategy studio TriggerXR, gave his views on the matter.
Jason's Thoughts:
"So first off, I would say that it's no surprise that brands are jumping into the metaverse. Right now, it's a very greenfield moment. It's a relatively untapped space, so there's a lot of room for brands to come in and make a lot of noise for consumers. It's not overly crowded versus let's say a year or two years from now when many many brands are in that space, it'll be a lot harder to break through the noise. You can be press-worthy and innovative quite easily at this moment.
Secondly, the real platforms out there, the things like Roblox and Fortnite, and they have big audiences, so success is actually mathematically possible from a campaign perspective. So you're getting big general engagement numbers, so 12.3 million visitors for Walmart Land, I think Nike launched with eight or 10 million. So that's all possible. And then even down to specific measurements that are related to retail, like American Eagle has been talking about the fact that they got 30 million try-ons from their Roblox experience. That doesn't directly convert to or map over to sales yet, but at least the product is getting out there to the consumer in that form.
What's upcoming? I think it's definitely going to change how retail engages digitally with its consumer…. We call it a metaverse flywheel, this combination of real-world metaverse with immersive metaverse together. So you start with augmented reality in-store, let's say web AR, that launches off of existing media and collateral. So it's fully contextual, it's immediate gratification, and then that links into a much deeper immersive experience that can be play now or play later for many, many minutes longer. That generates rewards, that sends you back to the retail location. So that's why we call that the metaverse flywheel, and we think that it is going to be the de facto standard moving forward.
The other piece that's going to happen in the near future is conversion. Right now…it started off as a gaming world, so a lot of those connective pieces and APIs and links to actual shopping and shopping carts have not been established yet. Right now the linkage is quite clunky, but all the platforms are very aware of the potential of this and will be improving that over time. We're very excited about the future."
Article written by Aarushi Maheshwari.
Latest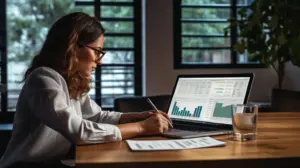 October 4, 2023
The intersection between security and financial acumen often gets overshadowed in a constantly changing economic landscape. While security is essential for safeguarding assets and ensuring continuity, its perceived monetary value is mired in misconceptions affecting company profitability. For many, security is viewed primarily as an expense rather than a potential cost-saver. However, understanding […]
Read More