Denali Water Solutions, LLC Acquires Stock of Veris Environmental, LLC and AWS Dredge, LLC
Russellville, Arkansas – October 26, 2020 – Denali Water Solutions, LLC announced that it has acquired the stock of Veris Environmental, LLC and AWS Dredge, LLC. Veris Environmental, LLC is a residuals management services company providing biosolids recycling and transportation, dewatering, digester cleaning, lagoon services and sediment removal, and land application services in the western United States. AWS Dredge, LLC, is a service provider to hard rock mines in the western United States. The stock purchase aligns with Denali's strategic growth plan of expansion to additional markets and geographical regions.
"We are thrilled to welcome the Veris Environmental and AWS Dredge teams to the Denali family. This decision aligns with our goal of building a team with strong and experienced leaders to enhance our safety-focused and quality residuals management services to our customers and to the communities we live and work in," noted Andy McNeill, CEO of Denali Water Solutions.
Kipp Parker, the majority owner of Veris Environmental and founder of Parker Ag Services, stated that he is grateful to have formed a relationship with Denali Water Solutions and is looking forward to seeing the expansion of the stewardship of the company he has built over the years.
Jay Holmes, CEO of Veris Environmental and founder of Liquid Waste Management, and Mike Scharp, Vice President of Marketing and Technical Services of Veris Environmental and a long term partner in Parker Ag Services, have both expressed excitement about joining the Denali Water Solutions leadership team as Denali expands their market area into the Rocky Mountain region of the United States.
About Denali Water Solutions
Denali Water Solutions is a specialty waste and environmental services company that believes it is the collective responsibility of us all to protect the quality of water and natural resources through recycling waste in sustainable ways, can be beneficially reused, and reduce or eliminate the use of landfills. Our vision is to meet this responsibility by offering innovative and economically effective solutions for the management, handling, recycling, disposal, and conversion of organic waste materials through beneficial reuse, composting, and anaerobic digestion for the customers and communities we serve. Denali Water Solutions is a full-service provider throughout the organic waste management cycle; processed waste is dewatered then recycled through liquid and solid land applications, chemical treatment, and composting. Beneficial use and recycling methods create sustainability benefits through fertilizing farmland, enhancing soil health with compost, and generating clean water. To learn more, please visit here.
Latest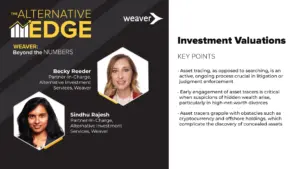 December 4, 2023
In this episode of The Alternative Edge, a Weaver: Beyond the Numbers Podcast, host Becky Reeder, an audit partner and co-leader of the alternative investments practice at Weaver, engages with Sindhu Rajesh, an Alternative Investment Services Partner with Weaver. They unpack the complexities of venture fund valuations, offering critical insights into industry dynamics and best […]
Read More