Elon Musk Successfully Launches the Falcon Heavy Rocket
Elon Musk has made it his life mission to take humankind to space. On February 6th, he got even closer to achieving that goal when his company SpaceX launched the historic maiden voyage of its Falcon Heavy Rocket, putting a Tesla Roadster into orbit, and landing two rocket boosters back on Earth. After a brief two-hour delay, the launch departed from Kennedy Space Center in Cape Canaveral, Florida—the same location from which NASA's Apollo moon missions and space shuttles departed from.
The rocket itself is impressive. It stands at a massive 23 stories tall and is powered by 27 engines on three core boosters, which produces 5 million lbs. of thrust at liftoff. SpaceX, ever the innovator in composite applications, engineered the rocket's payload fairing with a composite structure and carbon fiber face sheets that were manufactured in-house. It's built to protect satellites during delivery to low-Earth orbit as well as geosynchronous transfer orbit.
That Tesla Roadster is something to see as well. Equipped with a mannequin named "Starman" after the 1972 David Bowie song, and a dashboard message of "Don't Panic!" from the book Hitchhiker's Guide to the Galaxy by Douglas Adams, the cherry red convertible is currently on a trajectory taking it past Mars, and on its way to orbit the sun. You can watch footage of it here.
After the success of the launch, two of the core boosters, designed to be reusable, returned to their designated areas in Cape Canaveral Air Force Station. The third was set to land on a landing pad in the Atlantic Ocean. It missed—taking out a drone ship nearby, and plunging into the water at 300 miles per hour. Despite this miscalculation, the test run was still a huge success for the future of space exploration and space travel.
"I think it's going to open up a sense of possibility," Musk was widely reported to have said after the launch. "We want a new space race. Space races are exciting."
SpaceX is ready to lead the charge. With the success of the test run, the next steps include commercial satellite launches for the U.S. Air Force and a solar-sail mission for The Planetary Society. After that, SpaceX wants to send people to Mars as early as 2024.
"Crazy things can come true," Musk added. "When I see a rocket lift off, I see a thousand things that could not work, and it's amazing when they do." Some of those amazing things working where they shouldn't are undoubtedly because of the use of composites.
Magnum Venus Products is an innovator of composites, pumping and spraying equipment for closed/open molds, adhesives, and epoxies. MVP serves a multitude of manufacturers in a variety of industries such as automotive, aerospace, transportation, marine, railway, and oil & gas among many others. For more information on the great products MVP offers, visit the website!
Read more at mvpind.com
Latest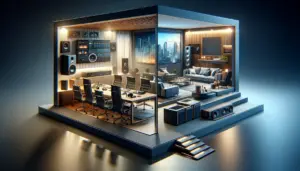 November 27, 2023
In this episode of "Pro AV Today," host Ben Thomas sits down with Audra Kinsley of Sonos Professional to unpack a topic that's causing (sound) waves in the audio industry: the fusion of commercial and residential audio systems. As we navigate through a landscape where consumer and professional audio worlds are increasingly intersecting, Sonos steps […]
Read More