Let the Space Race Begin Again
NASA successfully launched the most powerful rocket in the world into outer space this week. The Orion spacecraft is headed for the moon, with the goal of returning to earth in less than four weeks.
The journey is the first leg of the Artemis I mission, which has the goal of eventually launching spacecraft from the moon to Mars.
Ryan Duffy, Managing Editor for Payload Space, explained that while this project was more expensive and took longer than expected, it is still a major milestone for NASA and the space exploration industry at large, whether future trips be government of privately funded.
Ryan's Thoughts:
"This program was not without challenges. Super heavy SLS rocket came way over budget, years behind schedule, but NASA is back in the moonwalking business, or it will be soon, and the Artemis era is upon us. The big difference between Artemis and Apollo, I'd say is the prevalence and increased legitimacy of commercial space.
SpaceX will land at least two crews of Artemis astronauts on the moon. There's a whole range of NASA-supported, but somewhat self-funded lunar landers and rovers that are headed for the lunar surface. The last thing to watch for toward the end of the decade is China and their moves around building a presence on the moon.
Another, longer-term thing to watch for is that we aren't stopping on the moon. This time we're headed for Mars as well."
Latest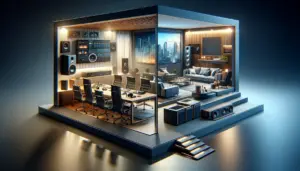 November 27, 2023
In this episode of "Pro AV Today," host Ben Thomas sits down with Audra Kinsley of Sonos Professional to unpack a topic that's causing (sound) waves in the audio industry: the fusion of commercial and residential audio systems. As we navigate through a landscape where consumer and professional audio worlds are increasingly intersecting, Sonos steps […]
Read More