PROTECTING YOUR FAMILY HISTORY
People all over the world are gaining interest in learning more about their family history. DNA tells us a lot about where we come from, but historic documents can give provide exquisite details. That is why these documents must be preserved.
The World Cup, while one of the most popular sporting events on the planet, hasn't always been popular in the US. The event has become more popular in recent years, but as Americans grow to like soccer, there comes a problem; which team to cheer for? In the past, the US men's team hasn't gotten very far against superstars like Brazil, Portugal, or Germany, and this year they aren't even in the competition. A clever marketing campaign by one of the 2018 World Cup partners, 23andme, offers Americans a chance to 'root for your roots" by taking a DNA test to trace their genealogy back to their original place of origin.
Searching for Your Roots
All of this speaks to the fact that Americans are obsessed with genealogy. It makes sense; as a nation of immigrants, we all want to know where we come from. We don't have the luxury of centuries of political or social history easily visible around us. As a part of this melting pot, we have all been blended together. Knowing where we come from, even if it was hundreds of years ago, gives us a sense of identity and legitimacy. It grounds us in a society that lacks certain defining factors that are present in older places such as Europe or Japan. Services like 23andMe offer a simple quick-and-easy answer to the question of genetic identity, all wrapped up in a slick user experience.
Preserving Your Records
Thanks to affordable, accessible DNA testing and improved archival websites, US Americans are enjoying a renewed interest in their heritage. Internet resources such as ancestry.com provide the document trail to go with, but many people might not be aware of the treasure trove of documents that they actually have in their own home. Every family has accumulated paperwork over the years that often sits piled in boxes in the attic or basement; birth certificates, naturalization papers, and love letters that sit forgotten for decades. These documents tell just as much about a family, if not more, than DNA and should be cared for properly. Storage is key to keeping these precious documents safe and intact. Paper can decay rather quickly and needs a climate-controlled environment to last. Humidity should be kept below 65% in order to prevent mold and insects from spreading through the paper, though too little humidity can actually cause the paper to dry out and become brittle. Paper should be stored below 75 degrees Fahrenheit in order to prevent decay. So hot attics, garages, and basements should be avoided. Papers should also be stored flat, rather than rolled up or simply stuffed in a box or drawer. The containers and folders that you use to store them should also be archival quality, meaning acid-free so as not to further degrade the paper.
Polygon to the Rescue!
If these precautions fail and documents become damaged, you can contact Polygon for help. Every year, we salvage millions of paper and film-based documents from damage caused by water, fire, and environmental factors. Documents that have suffered damage deteriorate extremely fast, and so it is important to work with a conservationist as soon as possible to halt the progression of decay. Polygon uses the most technically advanced processes and equipment available to address the specific needs of each project and keep your precious documents safe.
Conservation is both an art and a science and, like both fields, requires a constant exchange of knowledge to improve. This year, the Polygon team will be at the American Institute for Conservation's (AIC) 46th Annual Meeting in Houston, Texas, from May 29 through June 2. To learn more about how we can help to preserve your family heritage and identity, stop by our booth or visit us at https://www.polygongroup.com/services/water/document-restoration/.
Read more at polygongroup.com
Latest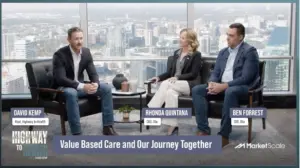 December 7, 2023
As of recent times, the healthcare industry has been progressively shifting towards value-based care, a model that emphasizes patient outcomes over the quantity of services delivered. This transition represents a significant shift that promises to enhance patient experiences and outcomes while controlling healthcare costs. With a growing emphasis on this approach, especially over the […]
Read More