The Commercial Space Age Is Upon Us
As part of an agreement signed Nov. 18 with Blue Origin, the U.S. Space Systems Command paves the way for Blue Origin's New Glenn rocket to compete for national security launch contracts once it is flight-certified.
Jack Blood, Chief Revenue Officer, Vaya Space gives his take on what we'll likely see next:
"CRADA really allows further commercialization of space. If you look at commercial payloads over the last 20 years the cost factor for commercial payloads to launch has decreased by roughly 90%. The US government hasn't realized that same type of cost reduction in their payloads.
With NSSL national security space launch payloads, and to even be certified, New Glenn, the Blue Origin Rocket is going to have to have a successful flight heritage and a minimum of two successful orbit launches, so that's still in the works, and still has to be proved.
But what the CRADA does, what this agreement does between Space Force and Blue Origin is it enables Blue Origin to secure that certification with those launches and to participate in the next competitive phase for these NSSL contracts."
Latest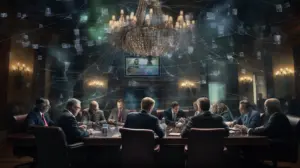 October 3, 2023
In August 2023, the National Institute of Standards of Technology (NIST) put out a request for comments on the Preliminary Update from the Internet of Things Federal Working Group (IoTFWG), which aims to provide the nation direction on how to improve IoT adoption and expand its use cases for the future of industrial, corporate, […]
Read More