World Metrology Day, 2018
May 20, 2018, is World Metrology Day. Metrology, the science of measurement, impacts our everyday lives in many ways: some are subtle, and others are quite significant. For example, metrology plays a central role in scientific discovery, as well as manufacturing and trade; it's also critical in improving our quality of life and protecting our planet.
World Metrology Day celebrates the date in 1875 when representatives of seventeen nations signed The Metre Convention. The Convention set the structure for global collaboration in the science of measurement and its industrial, commercial, and societal applications. The original aim of the Metre Convention, the worldwide uniformity of measurement, remains as relevant today as it was in 1875.
The theme for World Metrology Day 2018 is Constant Evolution of the International System of Units. In November 2018, the General Conference on Weights and Measures is expected to agree on one of the most significant revisions to the International System of Units (the SI) since its beginning. These changes will incorporate new research into new measurement methods using quantum phenomena, and each set of definitions will be linked to the laws of physics. These definitions will be adaptable to anticipated improvements in measurement science. Thus, the proposed changes will have wide-ranging ramifications now and in the future.
Zygo Corporation will honor World Metrology Day 2018, as it does every year, as a global leader in the design and manufacture of advanced optical metrology systems and ultra-precise optical components and assemblies. Just as this year's theme focuses on evolution, so does Zygo Corporation.
As it is our company's mission to promote customer success by delivering innovative precision optical metrology solutions, developments at Zygo Corporation have far-reaching implications. ZYGO is exceedingly proud of our efforts in enabling researchers, engineers and students have a better understanding of surfaces, generated or natural.
As ZYGO continues to develop and implement novel ideas, expanding our portfolio of over 750 current US patents into our instruments, ZYGO looks to the future; expanding opportunities where non-contact areal metrology can provide understanding and awareness for all purveyors of metrology.
Read more at zygo.com
Latest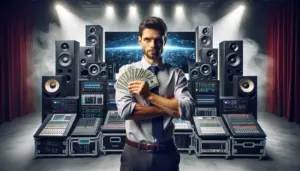 December 8, 2023
Mastering AV sales strategies in a global professional audio-visual (Pro AV) market, poised to reach $79.2 billion by 2028, requires much attention to detail. The surge in demand from corporate, government, and institutional sectors, driven by the need for enhanced productivity and efficient working environments, gives AV sales pros a lot of opportunity. In […]
Read More