50 Years of Aeromodeling Experience Leads to EDF Vote of Confidence
Manfred Greve's introduction to the world of aeromodeling began before he was born. His father started working in aeromodeling in the 1950s and passed his passion onto his son as a child.
After school, Greve would work on improving upon his model airplanes, a process which helped him learn and grow immensely.
"Do something with your hands and your mind, then bring it together and improve it," Greve said.
His adolescent experiences launched a career. Greve has been an aeromodel pilot for over 50 years and is now a technical trainee at Lufthansa, electrotechnical engineer and aeromodeller.
Greve learned how to optimize aeromodels over decades of experimentation. The Schuebeler Technologies electric ducted fan (EDF) system is one improvement he's found to be invaluable. He feels only the Schuebeler Technologies EDF system meets the standards worthy of high-end planes.
Greve believes that electric systems are a better option than gas, especially during competitions.
"If you are flying with a gas engine or with an electric engine, it is so different," he said.
According to Greve, feeling a continuity between how you move the control stick and how the plane reacts is very important, and he finds that continuity with EDF systems.
The control electric systems gives pilots also comes into play regarding noise and environmental regulations. Electric systems allow for a cleaner flying experience and can help regulate sound levels.
"With electric, there is no problem with it, so that's why I went for electric. My heart is beating for electric," Greve said.
A primary reason he gravitated toward Schuebeler Technologies is because its EDF system runs very smoothly.
"On the market in those days, it was not even possible to get something that (runs) so smooth like the Schuebeler," Greve said.
Be sure to subscribe to our industry publication for the latest news, videos, and podcasts in the Software and Technology Industry.
Twitter – @MarketScale
Facebook – facebook.com/marketscale
LinkedIn – linkedin.com/company/marketscale
Latest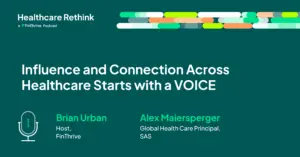 September 29, 2023
In the latest episode of the Healthcare Rethink podcast, presented by FinThrive, host Brian Urban sits down with Alex Maiersperger, the Global Principal Healthcare at SAS. Their conversation charts the role voice plays in influencing and connecting the healthcare industry. Maiersperger, who co-founded the Advancement League, shares his journey from being a healthcare optimist to […]
Read More