A Career Path for Veterans in the Data Center Industry
Lee Kirby, Cofounder and Chairman of Salute Mission Critical, wanted to use his 36 years of military experience to help veterans and their families. Drawing upon 30 years of information systems, strategic business development, planning and human resource experience in private and public sectors, Kirby began Salute Mission Critical.
Salute's mission is to provide military veterans and their spouses with a career path into the data center industry. Kirby sat down with Raymond Hawkins to discuss his passion for giving back to a community that meant so much to him.
"We always had the mantra: it's people, process and technologies," Kirby said. "So, we knocked it out of the park by tapping into the veteran community. If you look at a data center site, people will often outsource to at least three different vendors; one for security, one for critical environment and one for the IT environment. You can staff them with far fewer people if you can combine them into one solution."
And that total solution is what Salute provides.
Salute's capabilities extend beyond the U.S. for those veterans living in other areas of the world. "We're operating in nine countries," Kirby said. "Within six months, we will probably be 11 or 12 countries under our belt. In all these countries, we look to recruit veterans to bring them in. Outside of the U.S., we're probably about 50% veterans."
And Salute's program extends to military spouses, not only veterans. "We proved that this model worked and that we could train civilians," Kirby said. "There's no reason why we couldn't also train that hidden gem of the military, and that's the spouse. We wanted to provide a platform if you're a spouse, and you're working with us in California; if your spouse gets transferred to North Carolina, we've got opportunities across the US. We can keep that person employed and growing through our ranks."
Twitter – @MarketScale
Facebook – facebook.com/marketscale
LinkedIn – linkedin.com/company/marketscale
Latest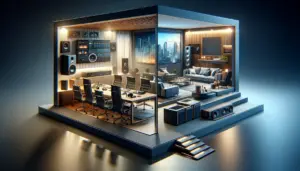 November 27, 2023
In this episode of "Pro AV Today," host Ben Thomas sits down with Audra Kinsley of Sonos Professional to unpack a topic that's causing (sound) waves in the audio industry: the fusion of commercial and residential audio systems. As we navigate through a landscape where consumer and professional audio worlds are increasingly intersecting, Sonos steps […]
Read More