A Data Analyst Must Have These Skills for 2023
Data analyst roles and other data professionals continue to be in high demand as not only more roles require data skills, but also more companies find value in using detailed data-led oversight to guide business decisions, process changes, and important investments. Kamal Albatarni, Full-Stack Engineer & Data/Business Analyst, gives his three main pieces of advice to those interested in learning more about data analytics, the industry as a whole, and how to add these skills to their toolbelt.
Kamal's Thoughts:
"What I've observed over these years is a big gap between skilled data analysts and the vastly growing market. We all agree that these days it's easier than ever to learn and acquire new skills with the information that is available at your fingertips. My advice to anyone interested in this industry and learning more about data analytics is to learn mainly about three things:
Basics of programming
Visualization for the programming language
There are a lot of options out there. I would recommend starting with Python. It's a very easy language to start with. Also, it's widely used, especially in data analytics. You will find a lot of resources, on how to get started and how to get to a level where you can get some data and manipulate it.
The second skill is SQL. As a data analyst, you've got to learn SQL. Your daily task would require a lot of retrieving data from large databases, and manipulating the data to meet the business requirements."
Latest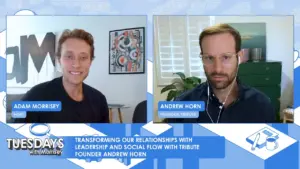 November 28, 2023
Can relationships be transformed through leadership and social flow? Navigating the intricate web of digital relationships can be a tricky proposition. Tuesdays with Morrisey's Adam Morrisey uncovers the transformative impact of emotional recognition in the workplace with Andrew Horn, the mastermind behind Tribute. This podcast edition unravels the story of a platform redefining how […]
Read More