Advertisers Turn to Software Giants For a New Advantage
While the power and reach of social media continues to grow around the world, so does the power of the companies in charge of those social media platforms. The recent stream of widespread data breaches and the fallout from the Facebook and Cambridge Analytica scandals have left a collective sense of concern among smartphone and social media users alike.
A New York Times investigation shed more light on the extent personal location data is being gathered and sold to advertisers and how little someone may know about how they allowed third-party access to it. Businesses in industries like retail have been able to use this expansive set of data to their advantage with more precise advertising.
The Spread of Location-Based Advertising
Without a doubt, the modern American life is facilitated in its core through smart technology. No smartphone is without some kind of mobile application installed, either. In its genesis, location data marketing was a prospectively industry-changing field. A person's online presence can be useful to target certain people to certain brands, but often how we act and what we do online can vary from our real-world activities. This is what made this location-based advertising so important—a more accurate, effective, and personal way to target advertisements to consumers.
This year, location-based advertising is an estimated $21 billion industry, an industry constantly broadening its reach. According to the Times' investigation, "At least 75 companies receive anonymous, precise location data from apps whose users enable location services to get local news and weather or other information… Several of those businesses claim to track up to 200 million mobile devices in the United States — about half those in use last year."
Breaking Down the Benefits of Location-Based Marketing
It is clear that location-based marketing became so popular because it works. A Lawless Research survey of in-house and agency marketers using mobile marketing found 87 percent of the 700 respondents use location targeting—with a vast majority satisfied with the results. The main areas of impact that many agencies benefited from was a growth in customer base, with more 80 percent surveyed agreeing, and consumer engagement. According to the report, more than two-thirds of agencies surveyed use location data for targeting and 74 percent of respondents saw an increase in ROI from campaigns.
Personalization was also highlighted as an area of improvement regarding location-based advertising. One of the biggest challenges marketers face is finding the right advertisement for the right person. As much as someone may post about healthy eating online, if their location data shows they visit a fast food location three times a week, there could be far more effective ads that could be dispatched to a said person at the right time. Location-based marketing helps a brand and a marketing agency know the real person behind the phone screen– partly why 85 percent of respondents plan to use LBA for personalization in the next year.
Balancing Business with Privacy
Public outcry has been steadfast from consumers showing genuine concern for the future of their privacy, and the pressure has been felt across Silicon Valley. Companies like Apple have responded accordingly, implementing stricter guidelines for apps on its Store to gather location data. Transparency is imperative for this industry to continue to grow without regulatory obstruction, one that is certain to follow if the distrust divide is not resolved soon.
For the latest news, videos, and podcasts in the Software & Electronics Industry, be sure to subscribe to our industry publication.
Follow us on social media for the latest updates in B2B!
Twitter – @TechMKSL
Facebook – facebook.com/marketscale
LinkedIn – linkedin.com/company/marketscale
Latest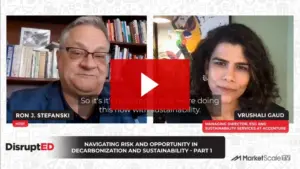 September 26, 2023
The global conversation has shifted dramatically towards decarbonization and sustainability in recent years. With the world experiencing unprecedented levels of disruption, from 5G technology to the challenges of a pandemic, the urgency to address climate change and its implications has never been more palpable. Although most business leaders see the vision of Sustainable Development […]
Read More