Are Chatbots for PR a Boon, an Annoyance, or a Replacement? For Now, They're All of the Above
At what point will chatbots like ChatGPT automate the entire PR industry? Big questions like that have been tossed around about a number of industries since ChatGPT's meteoric rise to fame after its release in November. But when it comes to chatbots for PR specifically, their strengths are actually not in writing complete stories or copy. For example, when sci-fi publisher Clarksworld reported that it had been inundated with AI-generated stories, the takeaway was not that AI is going to replace writers, but that AI can't write a good story. The AI-generated stories sent to Clarksworld and other magazines were easy to spot and generally pretty awful.
So, what then are AI's strengths? Many have been using generative AI like ChatGPT for first drafts or as generators for initial ideas, rather than to complete full projects. Because AI's text generally lacks emotion, originality, and overall value, its best uses tend to be a starting point rather than an end. For PR pros specifically, it sounds like generative AI is hitting every nerve, including therapeutic and pain-inducing ones. Content managers and account directors who've used chatbots for PR see it as serving "outdated information" and lacking that human edge that helps PR communications "[trigger] an emotional response," while also proving useful for adding "more color and detail" to certain projects and acting as a level-up opportunity for PR pros who "combine AI with their own creativity and expertise."
For DeAnna Spoerl, the co-owner and director of client services at Bear Icebox Communications, the use of chatbots for PR isn't a threat, but a tool like any other:
DeAnna's Thoughts
"AI tools are becoming much more common in the public relations industry, and with that does come a little bit of skepticism. I even find myself skeptical at times, but at Bear Icebox, we really want to challenge ourselves to find the ways that AI can actually help us do our jobs better. For instance, in a crunch when you need to brainstorm new, fresh ideas because you and your client need to pivot, using AI tools to get those creative juices flowing can actually be extremely beneficial.
Other ways that AI can help that we are exploring is for internal processes and automating things such as project management tools and monitoring the media. So, these are just a handful of ways that I think AI is really gonna help us change and like I said, do our jobs better, more efficiently, and hopefully with a little bit less stress."
Article by Graham P. Johnson.
Latest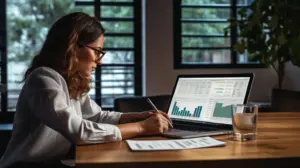 October 4, 2023
The intersection between security and financial acumen often gets overshadowed in a constantly changing economic landscape. While security is essential for safeguarding assets and ensuring continuity, its perceived monetary value is mired in misconceptions affecting company profitability. For many, security is viewed primarily as an expense rather than a potential cost-saver. However, understanding […]
Read More