AV Technology is Advancing Online Learning
Advanced online learning was a lifeline during the pandemic, and now it remains a vital component of the education puzzle. From hybrid learning in classrooms to continual online courses offered globally, this technology will increase and expand, not fade away.
Companies like Samsung are developing interactive displays for the classroom, so that educators can collaborate simultaneously with remote and in-person students. A successful launch of these displays at Stevens Institute of Technology led to widespread adoption across campus.
Online learning is happening in the virtual world as well. A Taiwan startup, Surreal, created a learning platform called SURREALM, which gives students an interactive virtual learning environment. This exciting use of AV technology gives educators flexibility in offering different ways to achieve optimal learning outcomes.
What other ways and strategies will AV use to advance online learning play now and in the future?
Chuck Espinoza, Global Director of Education at Aurora Multimedia, offers some insights.
Chuck's Thoughts
"The question has been posed. What do I see as the strategic role that AV deployments will play in supporting online learning moving forward, and why? Since the online learning model is still evolving I think we're gonna see online learning start taking place a lot more with a lot of differences in subjects. Right now there are a few subjects that they're completely online, totally online. Some things people still wanna show up to class to do experiments and lab things and whatnot. But I think as the technology evolves and we get better resolutions, we get lower latency going out to our participants. We get better cameras and new ways to use the equipment we have. We're gonna start seeing more of those lab experiences, those things that you really want to be there for. We could start broadcasting those out to different learners in different environments around the globe. And I also think technology is now going to adapt to people instead of people adapting to the technology.
Like right now I'm using a camera in a separate monitor and I have my camera in front of my monitor to get that good experience, I think we're gonna start seeing monitors with cameras built in. These cameras are a pixel big now, and now I can get more of a natural experience instead of having a camera in front of my monitor or, somewhere off to the side and having a weird picture. We can just look at our screen and that screen's gonna be the camera and we get more of a natural experience. Same thing with microphones instead of having, I have this big honking microphone here and it has really good sound, but it's a big honking microphone.
Having a beam-forming microphone or something built into the computer that has better sound, and better audio. So I think as technology gets better, it's going to adapt to people instead of people having to adapt to technology. And as soon as the technology will adapt to the people, then we can start being free to do more things that we wanna do in the classroom, live, and get those things out.
So I think Going forward, I think it's gonna be up to the manufacturers to adapt to how people work instead of, hey, this is our thing. It's gonna be the best for your situation. No, I want the thing that's absolutely perfect for my situation. And as a manufacturer, this is the thing we shoot for.
How do we get the best quality to you? What do you need? And how can we do that? So I think that's one thing you'll see coming forward."
Latest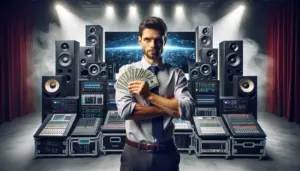 December 8, 2023
Mastering AV sales strategies in a global professional audio-visual (Pro AV) market, poised to reach $79.2 billion by 2028, requires much attention to detail. The surge in demand from corporate, government, and institutional sectors, driven by the need for enhanced productivity and efficient working environments, gives AV sales pros a lot of opportunity. In […]
Read More