Which B2B Technologies Are Beneficial, and Which Are Vaporware? with Josh Lupresto of Telarus
Technology is like fashion; it can be really cyclical. Today's trends can be tomorrow's faux pas, and some things are created for function, while others are just for show. With so many choices available, where do business owners turn to when purchasing the technology that's going to enhance or run the core of their business?
Today's guest on the Software & Technology Podcast is Josh Lupresto, vice president of sales engineering for Telarus, a technology services distributor. Being the "brokers" in the B2B technology world, interacting with OEMs to provide products to sub-agent vendors, Telarus has the unique position of keeping their ear to the ground, knowing what technology is trending even before it happens in a time where cutting through the technological fluff is forever difficult.
Lupresto explains how some technologies have become expected staples, like MPLS, and others have shown unexpected usefulness. The evolution of SD-LAN is also creating a game-changing environment for the customer, because no longer do they have to log in to each of their devices to make a change; they can set easy routing rules and application priorities across multiple devices, countries, routers, etc.
At the end of the day, the operation is what pays the mortgage, and "we always run the risk of making the wrong tech recommendation or being scrutinized, especially with the new perspectives in the AI and IoT realm, so we'd better make sure that if we're going to bring a product to the market, we better do a good job of vetting it before we put our rubber stamp on it," Lupresto said.
Listen to Lupresto break down the struggles of communicating what's useful and what's "vaporware," how Telarus acts like gate-keepers giving honest feedback to tech companies, and where are we right now with business-focused technological solutions and how it mirrors an era of growth or struggle we've already seen.
For the latest news, videos, and podcasts in the Software & Electronics Industry, be sure to subscribe to our industry publication.
Follow us on social media for the latest updates in B2B!
Twitter – @TechMKSL
Facebook – facebook.com/marketscale
LinkedIn – linkedin.com/company/marketscale
Latest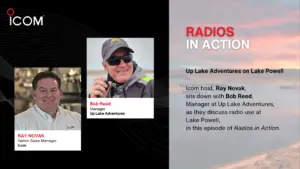 November 29, 2023
Delving into the serene beauty of Lake Powell, the Icom Podcast "Radios in Action" pairs the thrill of personal watercraft adventures with the crucial use of marine radios. Host Ray Novak and Bob Reed, the Manager of Up Lake Adventures, discuss the enthralling experiences offered by Up Lake Adventures in Utah's majestic landscapes. In […]
Read More