Cisco's Splunk Grab Buys Them Enterprise Software Growing Room, But Does it Seal the Deal in AI-Enabled Cybersecurity?
Cisco's play for Splunk is a step forward in the enterprise software space, but will this acquisition give them what they need in terms of advanced AI capabilities?
The network equipment giant Cisco will acquire enterprise software company Splunk Inc. for $28 billion, marking a significant stride in its cybersecurity endeavors and shifting from its core hardware focus. Touted by Cisco CEO Chuck Robbins, this move aims to propel the company into the next era of AI-enabled security. The deal closed at $157 per share, a 31% premium over Splunk's recent closing price. This acquisition symbolizes transitioning from threat detection to prediction, leveraging AI to bolster security infrastructures.
In the wake of this enterprise software acquisition, a plethora of inquiries arose. How will Cisco integrate AI-enabled security technologies with its existing products and services What are the unique cybersecurity risks in today's networking and cloud solutions landscape? As Cisco endeavors to infuse AI-enabled solutions into its product suite, how might its cloud and networking ecosystem evolve to reap the benefits of AI support? These are pivotal considerations that will shape the trajectory of Cisco's enterprise software venture into a new realm of AI-driven cybersecurity, and experts are poised to delve into the implications of these strategic moves.
Francis Cianfrocca, CEO of InsightCyber Incorporated, an AI intelligence company, believes Cisco's acquisition of Splunk is a move in the right direction. Still, Plunk's expensive storage costs may require additional considerations.
Francis' Thoughts
"I was really impressed with the deal that Chuck Robbins pulled off, and it may not have been obvious to a lot of people for Splunk to link up with Cisco. It certainly, as you said, is very much the biggest deal they've ever done in financial terms. I remember Webex 10 or so years ago was $3 or $4 billion.
They've been buying, Cisco has been buying a lot of technology companies, much smaller deals, but this is the first one that is very large. It's very accretive, and the financial matching between the two companies is very close. Again, I don't think a lot of people anticipated it. Some were surprised, but when you look really closely at it, it's almost like Cisco couldn't have bought anyone else. They paid about 10% of market cap, $27, $28 billion, to acquire about 10% more top-line revenue, so that fits perfectly. They were really clever and executed well because there's no real overlap between Cisco's existing businesses and Splunk, so they're not going to get antitrust problems. The deal's going to be easy to close. They did a lot of things right here, but again, it was a classic creative acquisition of a mature company by another mature company.
The real objective for Cisco and the benefit to them is they get a big additional footprint in enterprise software, which is one of their core business focuses. The other main ones, of course, are networking equipment and compute hardware, so software is a big thing. As you said, they're trying to make it bigger because that's where they can get some growth. Now, I think a lot of people are going to ask, how are they going to integrate these technologies, and what does it mean to have AI being added to Cisco's portfolio? I think that Splunk itself, all by itself, is a platform, very widely used one, but it doesn't have a whole lot of groundbreaking or advanced AI baked into the platform.
Rather, what you see is a lot of third parties, maybe 10,000 or more third parties, put their own analytics onto Splunk and make those available to Splunk customers. That's the smart thing for Cisco because they now have this added footprint where they can continue to entice third parties to add advanced capabilities, including really nice AI, into a platform that a lot of customers are already using. I don't think Cisco is going to make any substantial changes fundamentally to the technology platform.
They are going to integrate it with their sales model, and hats off to Cisco. I've always admired them for being unbelievably good at sales management and financial management. I don't put them at the top of the pile as a technology company, and a lot of people will disagree with me on that, but Chuck is a tremendously capable sales leader, and the way they manage finance, gross margins, unbelievably good, world-class, and so I think that that's going to create some friction for their users because buying from Splunk is different from buying from Cisco, will be in a year or two once they've got all the sales level integration done.
That's going to occasion some changes; some things are going to change in the world, possibly creating some opportunities for other vendors. Being someone who is in the cybersecurity business, and particularly with an AI focus, we look very closely at this deal, and I see it, again, great deal for Cisco, all right? They're very congruent with their business strategy, as I see it, right? I don't work for Cisco, but I think they're doing a great thing for themselves. Good deal. It does represent sort of a closure in the cybersecurity business where we're seeing a lot of traditional cybersecurity practice models coming to an end, and some new things are starting up. And let me explain specifically the problems that people have with Splunk.
It's a great company. Look what they've done. They just sold for $28 billion. You can't criticize that, okay? But from a technical point of view, the issues with that model are very, very expensive. It's basically a big data lake in the sky, and you throw all kinds of data from all of your systems and firewalls, et cetera, into Splunk, and what do you end up with? A lot of data. The problem is that they charge an exorbitant amount of money to store it, and they have some competitors. There's a genre, all right, a sub-segment of the market called Next Generation SIEM seeks to bend the cost curve. That's how they compete against Splunk, but the real problem is all of that data doesn't really tell you how to become more secure.
You spend a lot of money to license Splunk, but then you spend a lot of money on consultants and local management and experts to query the data, and I think that there is a new era coming with the SIEM category of products, Splunk being one, where artificial intelligence is going to be used in very different, novel ways to take all the data that Splunk aggregates and figure out how to ask the right questions so that users can become a whole lot more secure, get more insights that that are actionable of the form of, hey, you've got a major threat happening right here. It's ransomware. It's not going to hit you for three more months, but trust me; you want to look at these particular machines in this particular location and clean them out before you get in real trouble. That would be a whole new level of usefulness for the Splunk category of products. Cisco and Splunk they got a great thing going. I'm not sure they're the ones to innovate in that way. Other companies will probably do that, but that's the direction."
Article by James Kent
Latest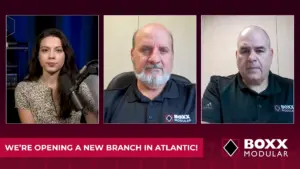 December 4, 2023
In an era where construction innovation is reshaping the industry, modular construction's growth continues to rise. In this episode of Built Modular, Boxx Modular's strategic expansion into Moncton, Atlantic Canada takes center stage. Host Gabrielle Bejarano welcomes Charles Landry and Ray Girouard to explore the implications of this venture. Bejarano, Landry, and Girouard discuss […]
Read More