10th Annual LinkedIn Talent Connect: Our Vision for the Future of Talent
The following was written by John Jersin, VP of Product, Talent Solutions and Careers for LinkedIn. It comes courtesy of Imani Greene and Marisa Ayyar.
Over a decade ago, Talent Connect began as an annual event for people to connect and build relationships, much like Reid Hoffman's vision for the LinkedIn community.
Since then, the LinkedIn community has grown from 50 million to more than 645 million  members, our products are now available in 200+ countries and we've connected millions of people to new jobs, new skills, more knowledge, all while opening the door to new paths for business growth.
The last 10 years have brought huge trends that are reshaping the market today. There's been rapid digital transformation, powered by everything from new web technologies to artificial intelligence. It's happening in logistics, marketing, healthcare and HR. This is part of what's driving one of the tightest labor markets of the last decade.
What worked before is no longer applicable today. Talent leaders need more intelligent tools and new ways of thinking to find the right talent, improve diversity and close the skills gap.
We believe the next decade requires a shift away from thinking about talent as a resource to a more people-centric approach. We hold the fundamental belief that if you solve for the growth, engagement, and happiness of your people, you'll naturally achieve better productivity and results. We call this people success.
At our 10th annual Talent Connect conference, we highlighted LinkedIn's unique ability to help close the "network gap," shared our vision for people success, and illustrated  how our community and tools can help you to plan your talent strategy, hire great people, and develop them into winning teams.
Here are six key updates:
#1: Insights to plan for the changing workforce
Late last year we released our first self-service analytics tool, LinkedIn Talent Insights, our first self-serve data product that taps into LinkedIn's network of 645M+ professionals, 30M+ companies and 20M active job listings to empower you with the insights you need. Since then, more than 1,500 companies have actively been using our real-time data to better plan their workforce strategy.
To ensure data and insights continue to be at the forefront of hiring decisions, we announced today that LinkedIn Talent Insights will be integrated into the new LinkedIn Recruiter & Jobs experience. 
This means, that while managing your candidate search in LinkedIn Recruiter, you'll be able to simply click on the "Talent Insights Report" tab to see labor market data from LinkedIn Talent Insights.
Let sourcing tips guide you: Identify new talent pools, which peers companies to target, what locations to consider, and more.
Set better expectations and build credibility with hiring managers: Being able to share the size of the addressable talent pool with information on how many professionals there are, how in-demand these professionals are, or how many candidates may be ready for a new opportunity can help recruiters be more prepared in conversations.
And we're already seeing the results. Companies who use both LinkedIn Recruiter and LinkedIn Talent Insights are recruiting more effectively with engaged users and seeing a +22% lift in InMail accept rates. That means they're 22% more likely to get a positive response from the new people they are finding and contacting after using Talent Insights.
The integration of LinkedIn Talent Insights will be available this Fall to companies using both Recruiter and LinkedIn Talent Insights.
#2: NEW LinkedIn Recruiter in your pocket (literally)
This year, we moved core recruiting products into a single, seamless experience with New LinkedIn Recruiter & Jobs. By bringing our products onto one platform, we can learn more of what you're looking for in your roles, and serve up more relevant matches. You deserve that same streamlined experience on mobile, so we've rebuilt our LinkedIn Recruiter Mobile App from the ground up.
We know that 70% of responses from candidates take place after 7.00 p.m., and we want to make sure we provide the same level of ease and intelligence in the desktop in mobile. Our revamped mobile app includes a better messaging experience, notifications when you need them, and easy management of your Projects and candidate pipeline.
Here are some of the key features:
Send, receive and manage messages on-the-go: Get real-time notifications when candidates reply to your messages and respond in the moment. Through the app, you can also compose and send InMails to candidates, as well as attach and send documents, all from your phone.
Search and manage relevant candidates: Whether you want to do a full search using smart filters and keywords, or review candidate profiles and save them to your existing projects, by learning from which candidates you choose to save, hide and message in Recruiter, we'll showcase Recommended Matches right on your mobile.
Share and collaborate with your team: Collaborate easier by tagging your team in Notes, and start a conversation and share candidate profiles directly with your hiring manager or with a client for feedback.
The new app will be available on Android and iOS to all our customers before the end of the year.
#3: New ATS that takes you from sourcing to hiring
Cat's out of the bag and so is our first ATS, LinkedIn Talent Hub. Talent Hub is now officially available for customers, starting today. This new hiring solution brings your information from LinkedIn Recruiter, LinkedIn Jobs, Apply with LinkedIn and more into one platform for simple sourcing, candidate management and hiring.
Designed for small and mid-sized companies under 1,000 employees, Talent Hub combines popular LinkedIn products like Recruiter, Jobs, and Pipeline Builder with a reimagined applicant tracking system (ATS). This end-to-end hiring platform provides data-fueled insights and best-in-class collaboration tools to drive efficiency and effectiveness for our customers, and an overall better experience for candidates.
With LinkedIn Talent Hub, you'll get:
A single system of record for all hiring activity: Talent Hub incorporates New Recruiter & Jobs within an applicant tracking system so you can source, manage, and hire all in one place.
Intelligent insights: Offering everything from talent pool and candidate insights to workflow and performance metrics, Talent Hub delivers tailored insights to enable more informed and strategic hiring decisions.
Collaborative tools: Built with all users in mind, the best-in-class features like interview scheduling, feedback sharing, and record-keeping foster visibility and alignment for the entire team.
More Integrations: Talent Hub integrates seamlessly with tools like background check, Docusign and job distribution, which allows you to post to different job boards from Talent Hub.
#4: Integrations with Oracle and ICIMS to make sourcing easier 
HR leaders are tasked with being more efficient in hiring and developing people, so they have more time to focus on growing existing talent and connecting with prospective talent. Recruiter System Connect (RSC), a game-changing integration connects LinkedIn Recruiter with other applicant tracking systems. This saves recruiters 3+ hours per week by streamlining their hiring workflow, reducing the need to toggle between systems to access candidate details, and making it easier for recruiters to collaborate while getting the most up-to-date, accurate information.
Today, we announced that LinkedIn Recruiter System Connect (RSC) integration with Oracle's Taleo Enterprise Edition is now available for customers to use, and ICIMS will be live for customers within the upcoming next quarter. This will simplify the hiring process for Oracle and ICIMS customers by integrating their applicant tracking systems with LinkedIn Recruiter. This will provide rich insights and end-to-end visibility of the candidate journey from sourcing to hire, and eliminate the need to manually copy and paste between systems to help recruiters work more effectively.
We're also working on the next evolution of RSC which will include Unified Search. This will allow you to get the best possible search results across both LinkedIn Recruiter and your ATS.
#5: Skill Assessments to streamline the candidate search
Leading up to Talent Connect, we introduced Skill Assessments, another way for  job-seekers to signal they are right for a role and showcase their qualifications. In fact, 87% of employers agree that an easy way to verify what skills candidates have would save them time and 83% of employers agree skills and credentialing are becoming more important for hiring talent. As interest in skills-based hiring grows this offers opportunities for you to:
Streamline the candidate search: With LinkedIn Skill Assessments, there's no need to set up custom assessments for each new role. The ability to view candidates who have passed a Skill Assessment will be easily visible in candidate search results in LinkedIn Recruiter.
Engage with a more diversified talent pool: When recruiters search for 'java' or 'photoshop,' we can make sure that members with verified skills show up. In turn, helping reduce the time to find quality hires.
Source more confidently: Recruiters and hiring managers can quickly and reliably pinpoint candidates that have the skills they are looking for. In LinkedIn Jobs, you can even suggest candidates take a Skill Assessment when posting open positions (and receive a notification when they pass). Passing just one Skill Assessment makes an applicant 50% more likely to get hired.
#6: More insights to bridge the skills gap and develop your talent 
With Skills Insights, available in LinkedIn Learning Pro today, admins can dive deep into your organization's skill profile. You can review how your skills profile changes over time and benchmark skills against industry peers. This is valuable and dynamic data for identifying skill gaps and delivering relevant learning recommendations to employees.
But, we're not stopping there. Within the next year, Skills Insights will also show which skills employees are in the process of developing so you can better understand where your learners are investing and track their progress over time.
Last year at Talent Connect, we also announced the acquisition of Glint, a software platform that enables companies to engage in deeper listening with their employees and better understand the health and happiness of their employees. Glint recently announced new cutting-edge suite of capabilities this year designed to meet their needs, including Manager Concierge. This guides a manager through the process of understanding their engagement results, and taking action to improve with their team. In the future, Glint will also automatically suggest a "People Goal" with relevant LinkedIn Learning courses so managers can immediately take action and strengthen their people manager skills.
Making sure employees are engaged and motivated is a crucial part of People Success, as we think about the ways we can help you get more visibility into the overall health and performance of your organization. In fact, 90% of leaders believe that not only do engaged employees perform better, but also that employee engagement is critical to their business' success (Peak Performance). Read more on the Glint blog.
We're looking forward to the next 10 years of this journey, and we're excited at the possibilities for what we can do together.
Latest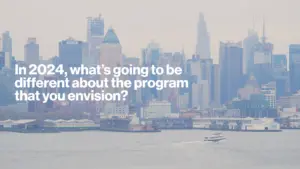 December 1, 2023
In the dynamic telecommunications landscape, Verizon's Partner Network continues to evolve, adapting to new trends and opportunities. For another segment featuring Mark Tina, VP of Indirect Channel Distribution and Channel Chief at Verizon Business Group, he explores exactly what types of significant changes and advancements the Verizon Partner Network will see in 2024. In this […]
Read More