Fundamentals of Technology in the Utility and Energy Operation Sectors
Control room operators have a critical role in the utility and energy industries. They are responsible for everything from managing surveillance to command and control to traffic management and broadcasting distribution monitoring. With such a key role, what are some of the unique needs control room operators have when it comes to designing their workspaces?
On today's episode of Tech Unraveled by Vistacom, Hosts Joshua Herring and Lianna Russell, are joined by Lee Pagnan, National Sales Manager of Utilities at Barco, and Shawn Brady, VP of Product Development at Winsted, to talk about control mission operator roles, how control centers need to be ergonomically designed, and technology trends in the control center industry.
Herring and Russell also discuss…
What control mission operators perform on a daily basis
Ergonomic resolutions for operation work centers and commonly overlooked design considerations
Examples of what operators look at from the viewable data perspective
Brady explained that there are two types of data—task data and viewable data—and operators want to see it all at once. However, this is not the most optimal solution, he explained, "We try to take stock and show the difference between the task data and the viewable data. And then we can say that all these things that are occurring, that are task data, we need to keep that on the desk. But maybe we have some of that viewable data that we can move off to a display wall…that way, it's there for the room."
Pagnan is seeing trends in increasing preparedness of control centers. "A great trend that we're seeing in electric and utilities is standing up additional control center. So, COVID really brought to light some vulnerabilities previously not thought of. While most utilities were operating a primary and a backup control center, tertiary sites are now being implemented in the case there's some type of outbreak in a primary or the backup center."
Lee Pagnan is National Sales Manager of Utilities at Barco and previously served as Market Manager of Utilities at Barco. He has worked at Mitsubishi and AVI-SPL as in sales and market management roles. Pagnan earned a BA in Political Science from the University of California, Riverside.
Shawn Brady is VP of Product Development at Winsted and was employed at Barco as a Business Development Manager of Utilities as well as a Senior Control Room Specialist in Utilities. Brady is a Certified Office Ergonomics Evaluator (COEE) and has completed more than 200 projects in the mission critical industry.
Latest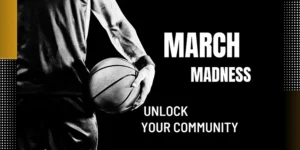 March 31, 2023
Over three weekends every March, America catches a fever. March Madness is back, in full swing, and if the latest ratings are any indicator, fans are watching college basketball like never before. As marketing and sales professionals is there anything that we can learn from marketing like March Madness?    Naturally, brands, marketers, and advertisers […]
Read More