How Digital Media and Broadcasting Has Brought Rodeo to a New Generation
With the popularity of shows like Yellowstone and The Mandalorian, the Western is experiencing a renaissance. And riding that wave of popularity is the rodeo. Interest in rodeo isn't specific to certain geographies in the United States. With the help of digital media and broadcasting, audiences for rodeos are growing and can become even more popular than ever before. Paul Woody, VP of Business Development at PRCA (Pro Rodeo Cowboy Association), spoke with Ben Thomas about the exciting potential he saw for rodeo today.
Rodeo came about through everyday ranching activities, and the people who live their life love to watch it performed at the highest level. And call it curiosity, interest, or a calling for a different life, but Woody said people leaving the cities for more rural areas also want to experience rodeo. "They're learning, and they're searching, and they're finding out why we do these things, and so there's more people watching," Woody said.
The PRCA's body consists of more than 700 rodeo committees across the country. And while these operate independently from each other, they utilize PRCA resources to put on the best rodeo show in their communities every year.
Woody said the top ten flagship rodeos across the country are essential opportunities to utilize broadcast media because they generate a lot of fan interest, strengthening rodeo interest across the country. And the uniqueness of attending a rodeo in person makes a lasting impression.
"There are some rodeos that are incredibly traditional that you will not find pyrotechnics and loud music," Woody said. "It is about the purse aspect of rodeo competition. And then other rodeos have figured out you can have 20 days of A-list performances, and people will come to watch this artist, and by the way, there's this two-hour rodeo before the concert ever starts. No matter the flavor, the rodeo is there to entertain.
—
Latest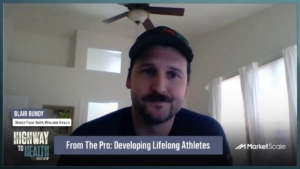 September 20, 2023
Blair Bundy, the Director of Player Health for the Milwaukee Brewers, recently shared his insights on the importance of nurturing lifelong athletes from a young age. He emphasized that the ultimate goal for children participating in sports is not just about winning games but about fostering physical and mental resilience. Such individuals lessen the strain […]
Read More