How Close Is 3D Tech to an Experience Indistinguishable from Reality?
On Spatial Perspectives, host Dan Cui will have a one-on-one dialog with innovators and thought leaders in the growing Spatial Reality, or Spatial Computing, market. Cui will invite guests who can discuss the real world use cases of the technology and how it could benefit mankind while exploring any drawbacks and how they might be mitigated.
Exploring the world of all things related to 3D Images and Holograms on Spatial Perspectives—a podcast series hosted by Dan Cui, a technology ambassador—brings industry innovators and thought leaders together to discuss their contributions and insights in the rapidly-evolving spatial reality arena. And on today's podcast, Russ Baker, VP of Business Development of Avalon Holographics, joins Dan to chat about the company's Avalon's holographic displays and what exactly is a hologram.
The drive to start Avalon came from the need and want "to do 3D right." They tried to do holographic displays without any tricks, so when a user views the hologram, it's as if the user sees the object. To Baker, there is a difference between genuine and non-real holograms. Then some folks call things holograms that aren't even close to being holographic. Some groups are considered "purists" that only think holograms are composed of lasers invented in the 1960s.
"There is a pretty wide spectrum of things that call themselves holographic and definitely aren't," Baker said. "Then there are some things that are at least trying to get close to the real deal."
The public also has a different perception of what it thinks is a hologram. Most of the time, it's floating light. This isn't feasible, according to Baker. Nobody knows how to change the direction of light in space, so this idea of a hologram can easily be dismissed.
"I would call that a hologram if it could be done. It's just not possible to do it," Baker said.
Some companies now offer half-holograms, half-parallax, according to Baker. Another point of confusion is that some companies are now applying Augmented Reality to holograms, which isn't true. Anything in AR is stereoscopic vision. The duo dug into detail the difference between 2D and Holographic vision.
To learn more about Avalon Holographics, watch videos demonstrating holographic technology, dive deeper into holograms, and listen to Baker's explanation on what is precisely a hologram, tune in to the Spatial Perspectives with Dan Cui podcast today.
Follow us on social media for the latest updates in B2B!
Twitter – @MarketScale
Facebook – facebook.com/marketscale
LinkedIn – linkedin.com/company/marketscale
Latest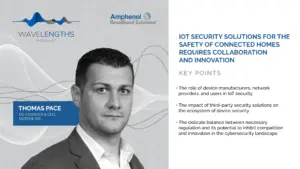 November 28, 2023
Since the introduction of smart devices, the world has increasingly become dominated by interconnected devices but IoT securitydemands are also growing. The "connected home" has shifted from what was once a futuristic concept to reality. With the global smart home market projected to reach $135.3 billion by 2025, the conversation around the security of these […]
Read More