How the Open-Source Champions at Skvare are Helping Organizations Expand Their Work
What does it mean for a business to help other organizations achieve their mission of helping others? For Gena Dellett and the team at Skvare (pronounced "square") that means asking tough, real questions and avoiding shortcuts, all while building long-term relationships. Gena joined MarketScale to answer a few questions about who they are as a company and where they're heading in 2022.
What does everyone need to know about your company and why?
I'm Gena Dellett, I'm the Chief Operations Officer at Skvare. What I want everybody to know about Skvare is our amazing team. We're a dedicated team of open-source software champions, and we have been since we started in 2008. Along the way we've worked with organizations of all shapes and sizes, non-profits, memberships associations, educational organizations, helping them build out their systems of meaning and impact to expand their mission and their work.
The other thing I want everybody to know about Skvare is our team's curiosity. Our ability to ask powerful and meaningful questions is the value that we bring to the table. It's what distinguishes us from other technology partners. It allows us to work with our clients in a way that they can think bigger and expect more from their systems.
And by expecting more from their systems, it means that they will be able to better deliver on what their mission is.
What are the biggest trends you expect to see in your industry throughout the rest of the year and into next year?
Since we work predominantly with nonprofits, membership associations, educational organizations, some of the trends we've seen, and we expect to continue to see is building true relationships and meaning within online spaces. With COVID, obviously that's where everybody had to go. Right? We went to our laptops, to our zoom screens.
And so much of what we've learned in the last few years is being incorporated into organizations, online technology strategies for greater impact now, and into the future. It's a privilege to get, to build out these systems with our partners and allow us to implement our mission of helping others, help others.
How has your industry changed in the last few years?
One thing I love about the industry that we work in is that we can help change expectations and raise the bar for what the organizations we work with, how, what they expect from their software, what they expect from the systems that they invest real money in and expect real results from that comes from providing.
Meaningful training so they can better take advantage of the functionality that exists in their system by better understanding how it works.
What are you excited about in 2022?
What I'm looking forward to in 2022 is the work we're doing internally with our processes and team structure to strengthen our internal communication in order to deliver the highest and best quality to all of the clients we work with across the globe.
Another thing I'm excited about for 2022 is that we're just celebrating anniversaries with some of our clients who've been with us for years. It's a pleasure to get to see them change and grow over time. New team members, different staff structure, different use of the same technology tools that they've always had.
And that we've been right by their side getting to be part of that implementation and that use of their systems.
Another thing I'm excited about for 2022 is just continuing to have fun as a team. I think it's really important, especially as an employer that we take pride in having spaces where we know that our employees are challenged and get to think critically about real and difficult questions, coming up with solutions for problems, having real and tangible relationships with coworkers, all of that adds so much meaning to our life.
To be able to kind of be, be an employer that has that kind of culture and how we work, I know that that affects and strengthens the relationships that we have with our clients. And it also makes for a great, rewarding enriching place to be an employee and to hopefully have a home for many years into the future.
Latest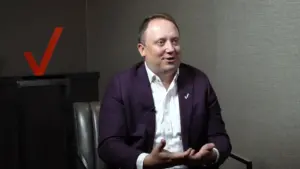 December 1, 2023
For a special episode of The Verizon Partner Network the focus was on the considerable role of partnerships in the Verizon Partner Program and the leaders shared their perspectives on the initiative. Their conversation brought about a lot of thought-providing context on the evolving telecommunications landscape. In today's era, collaboration and integration are key to […]
Read More