How the Stenograph Community Overcame the Spring's Event Shutdowns
With no court hearings, few press conferences and hardly any live events, the spring was a tough time for the stenography industry.
The COVID-19 pandemic forced many local officials to order lockdowns as they looked to prevent the spread of the virus, but that meant a shock to the system for stenographers.
Anir Dutta, President of Stenograph LLC, had to think on his feet to figure out what his company would do after losing an estimated 30%-40% of sales over night.
"It was a tough time, and some tough decisions needed to be made. I think my guiding principle was primarily based on the fact that I believe this was a short-term issue, not something that would go on for years, so I don't want to do anything that would make long-term changes," Dutta said.
While there initially were work reductions, the company avoided layoffs thanks to the entire group being willing to make small sacrifice. Now, with the European market coming back strong and even some U.S. markets beginning to reopen, Dutta's strategy of buckling down for a few months is set to pay off with things beginning to trend upward once again.
"We are looking to innovate through new products, diverse products and new technologies so that we can enable the legal industry to capture, manage and distribute accurate verbatim record," he said. "That's our mission. That's our vision, and we have to continue to do everything and execute in the new normal to make that commission and vision a reality."
Latest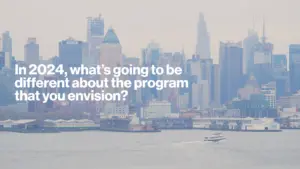 December 1, 2023
In the dynamic telecommunications landscape, Verizon's Partner Network continues to evolve, adapting to new trends and opportunities. For another segment featuring Mark Tina, VP of Indirect Channel Distribution and Channel Chief at Verizon Business Group, he explores exactly what types of significant changes and advancements the Verizon Partner Network will see in 2024. In this […]
Read More