ClearTalk: Customer Care and the Integrator-Client Relationship
Customer care – it's often thought of as a no-brainer. Of course you take care of your customers. That's how business is done.
But are you looking deeply enough at how customer care initiatives can be elevated to play an even greater role in enterprise communications?
On this episode of ClearTalk, a CTSI podcast, host Tyler Kern was joined by CTSI Vice President of Operations Will Seifert and Director of Customer Care Becky Arthur to help you answer that question.
Seifert said customer care can be the difference between a solution that surpasses expectations and one that loses the thread in lack of communication and added complexity, especially in systems integration.
"Customer care is important, because it really is how the end users get the most out of their system," he said. "It ensures that the system is functioning in a way that it really needs to function and that they're getting the return on investment that they thought they would get at the very beginning of the project."
While customer care if often thought of as how a business relates to and serves its clients, that definition is limiting.
In fact, Arthur said, it's a partnership.
"We have to work with our customers to make sure they understand the technology they're getting," she said. "Then, as they're using the technology, we help make sure that it's meeting their business needs. Really, it's a partnership to make sure that we're helping support them."
The essence of customer care, then, is translating all of the conceptual and technical planning of a unique system into a tangible, practical, useful, and reliable solution.
Effective customer care brings along with it a variety of benefits, including better outcomes and overall usage, the ability to be flexible in adapting to changing business needs and goals, and more.
Follow us on social media for the latest updates in B2B!
Twitter – @MarketScale
Facebook – facebook.com/marketscale
LinkedIn – linkedin.com/company/marketscale
Latest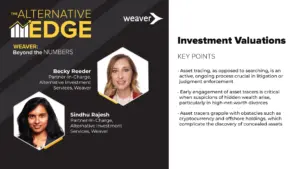 December 4, 2023
In this episode of The Alternative Edge, a Weaver: Beyond the Numbers Podcast, host Becky Reeder, an audit partner and co-leader of the alternative investments practice at Weaver, engages with Sindhu Rajesh, an Alternative Investment Services Partner with Weaver. They unpack the complexities of venture fund valuations, offering critical insights into industry dynamics and best […]
Read More