How Open Internet Advocates and ISPs Will Bring the Net Neutrality Fight to the States: Ratified
The fight for net neutrality is over at the federal level, at least for now. The Obama-era Open Internet Order of 2015 was repealed by Ajit Pai's FCC and solidified after a DC circuit court of appeals' final ruling, leaving prospects looking slim for legislation proactively regulating broadband internet.
However, even with the federal repeal, individual states still have the ability to pass their own legislation, which could carry on the spirit of net neutrality by tackling the most frequented issues of blocking lawful content, throttling and paid prioritization.
With the future of net neutrality in the hands of the states, how will this play out for end-users and ISPs? On this episode of Ratified, a MarketScale show on the intersection of business and policy, host Daniel Litwin brings two important perspectives to the table to understand the main arguments for and against net neutrality regulations, why small ISPs fought hard for repeal, and what future legislation could look like encourages both broadband expansion and an open internet.
Commentary includes perspectives from Matt Polka, CEO of ACA Connects, and Chad Marlow, senior advocacy & policy council at the ACLU.
ACA Connects, which represents almost 800 small and medium-sized independent telecom operators across the nation, and works with Washington to ensure fair treatment of these small players so they can provide "affordable video broadband and phone services to Main Street America." Polka and his members have felt a weight lifted with the repeal of Net Neutrality, and he joined Ratified to give his perspective on Title II regulations, how they affect small ISPs, and whether lawmakers can put partisanship aside to roll out new federal legislation.
At the ACLU, Marlow advises specifically on privacy, surveillance, and technology issues. An advocate for a free and open internet, Marlow explained how a state-by-state Net Neutrality framework could play out, who's necessary to advise on quality legislation, and his take on some of the prevailing arguments from the net neutrality discussion.
For more on Ratified, follow Daniel Litwin on Twitter and subscribe to MarketScale Radio on Apple Podcasts and Spotify.
For the latest news, videos, and podcasts in the Software & Electronics Industry, be sure to subscribe to our industry publication.
Follow us on social media for the latest updates in B2B!
Twitter – @TechMKSL
Facebook – facebook.com/marketscale
LinkedIn – linkedin.com/company/marketscale
Latest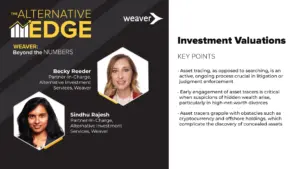 December 4, 2023
In this episode of The Alternative Edge, a Weaver: Beyond the Numbers Podcast, host Becky Reeder, an audit partner and co-leader of the alternative investments practice at Weaver, engages with Sindhu Rajesh, an Alternative Investment Services Partner with Weaver. They unpack the complexities of venture fund valuations, offering critical insights into industry dynamics and best […]
Read More