Robotic Automation in American Manufacturing: Its Rise, Impact, and Value in the American Manufacturing Renaissance
Attention-grabbing headlines and political stump speeches keep indicating that America no longer makes anything. That's actually not the case at all. Despite lots of transitions and evolutions in American manufacturing, the U.S. is still the number two manufacturer in the world in terms of output, second only to China. The industry is now seeing steady and substantial growth after declines, creating a manufacturing renaissance. Much of that new vitality is thanks to innovation, specifically the introduction of robotic automation in American manufacturing.
The question of using robotic automation to improve manufacturing processes is no longer a hard sell to companies. They realize its unique benefits and value. The rise in deployments makes this evident. Per the International Trade Administration (ITA), the U.S. increased industrial robot installations by 10.28% from 2008 to 2018. Of that, 82.3% of the usage was in manufacturing.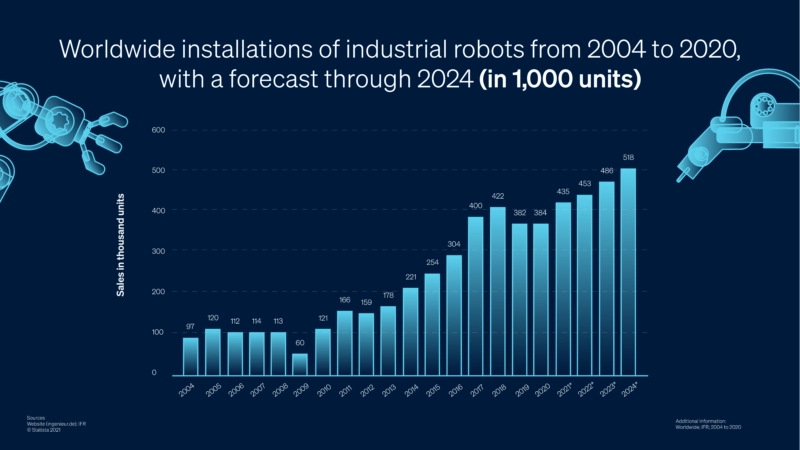 More recent data reflects greater growth as the adoption of robots became critical. An article from Reuters stated that more robots joined the U.S. workforce in 2021 than ever before. North American companies spent over $2 billion on almost 40,000 robots, up 28% over 2020.
Why the spending spree? First, manufacturers realized they needed to be more resilient and optimize processes through technology. Second, there was record demand for products, and supply chain challenges made it harder to keep up. Third, robots helped mitigate the lack of labor resources.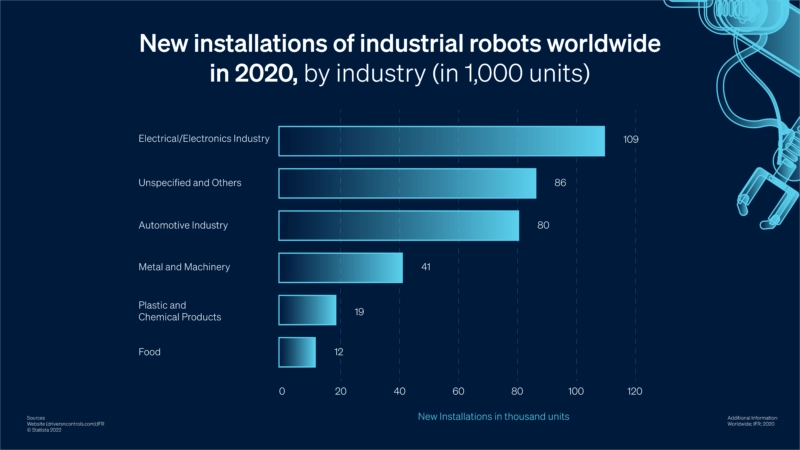 This acceleration saw automotive unseated as the leader in robotics acquisition. According to Statista data, the electronics industry now leads the way in the deployment of robotic systems. "Other" was number two, followed by automotive, metal/machinery, plastic/chemical products, and food processing. The reality is that robotic automation applies to any industry that wants to improve processes, eliminate error-prone repetitive work, improve safety, and speed up throughput.
For insights into the topic from those in the industry, MarketScale tapped the expertise of FANUC America, leading manufacturers of automation solutions, to shed light on the topic.
Mike Cicco, CEO of FANUC America, shared his thoughts on the changing sentiment toward robot usage. "When we first started, it was taking the most dangerous or repetitive tasks, but today it's different. With the supply chain, they'll be more localization of manufacturing. More customization, too, and automation helps with this. Flexible automation with robots is really limitless."
Jim Cooper, General Manager at FANUC America, added, "The discussion is different. It's how can you help us automate faster? We help [American manufacturers] put a plan together and get their workforce trained."
Robots Augment Human Labor, They Don't Eliminate Jobs
Organizations that have adopted robotics are glad to herald that robots aren't job takers. Research supports this as well. A think tank's analysis projected that robot usage would create more jobs than displace by a net positive of 58 million roles.
Looking at the overall drop in unemployment while the use of robots becomes more prevalent is a definite sign. The Bureau of Labor Statistics (BLS) data, analyzed by Reuters, demonstrated that employers in the sector now have 20% more jobs open than people looking for them.
There's no doubt that manufacturing is facing labor challenges. The use of robotics can be a way to attract job seekers. Cicco noted, "Robotics bring the best of both worlds. Manufacturing engineers can upskill by learning automation."
Dick Motely, Director of Integrators at FANUC America, also dismissed robots as job killers. He shared a success story of a small manufacturing facility that invested in automation initially for labor savings. "After implementation, I had a chance to speak to [the owner]. He said, 'Now I have reliable productivity. So, I started pursuing additional business because I knew I had the capacity.' He grew his business and hired more people."
Barriers to Robotics Adoption: Skillsets and Aligning Needs with Technology
What often prevents companies from embracing robotic automation in American manufacturing is a lack of skillsets with workers. Existing employees and those they recruit for the future need specific training to work with the technology.
Paul Aiello, Executive Director, CERT Education Group at FANUC America, explained. "One of the biggest issues near and dear to just about every CEO or president of a company today is their workforce. How do they find them? How do they keep them? How do they upskill them, and how do they attract people into this industry, which still has the connotation of being a dirty, dangerous environment?"
To change the perception and train new and existing workers with these new skills, FANUC works with 1,400 schools to provide education and curriculum. Aiello continued, "We train and certify instructors, so they understand technology. Students are coming out of programs trained on what the industry needs them trained to do."
The Path to Robotic Automation in American Manufacturing
Beyond skills gaps, companies may be hesitant to deploy it because they aren't sure where to start. The key to bridging business needs and aligning technology to meet those lies with integrators. Motley said, "If you look at a robot, it doesn't do much by itself. It needs to integrate into the manufacturing process and the people responsible for operating it." He continued, "That's the integrator's expertise. They understand the customer processes and pain points and how to address all those with the robotic system."
Robotic automation in American manufacturing has the potential to revolutionize the industry, even beyond digital transformation. It drives efficiency, cost savings, and higher quality. It's not a replacement for labor but an augmenter for it. Any company can experience exceptional outcomes from this. With the right technology being brought into our businesses, the U.S. can continue its manufacturing renaissance.