Stenograph and vTestify Announce Strategic Partnership to Deliver Official Transcript in Real Time During Remote Depositions and Legal Proceedings
DOWNERS GROVE, Ill., October 26, 2021 (Newswire.com) – Stenograph, LLC, the market leader in legal transcription solutions, announced it has entered into a strategic partnership with vTestify, a leading provider of virtual testimony platforms, to deliver real-time transcription capabilities directly within the virtual testimony user experience. Beginning today, clients of vTestify will have access to an all-in-one virtual deposition platform that streamlines remote depositions and legal proceedings by combining videoconferencing, exhibit technology, and real-time transcription within a single subscription and user interface.
"While it's true the legal industry was able to find viable technology to function in a remote deposition environment after the COVID pandemic arrived, the process has typically involved multiple log-ins and screens, and participants have had to wait to access the official transcript until after the proceedings," said Anir Dutta, president of Stenograph. "Our partnership with vTestify addresses these shortcomings directly, allowing participants to conduct the entire process within a single platform, and allowing attorneys to consult and search the official transcript in real time to adjust their questioning in response to testimony. Even as restrictions around the pandemic are being lifted, it's clear the legal community will continue to conduct many proceedings virtually to function more efficiently, minimize costs, and reduce the need to travel. We are excited to be able to fulfill the evolving needs of our clients with a comprehensive solution to remote proceedings."
vTestify's virtual testimony platform is designed specifically for remote legal proceedings, offering participants video, exhibits, and screen sharing in a single solution. In response to client demand, Stenograph and vTestify have integrated their market-leading products into a single seamless solution, making it possible for attorneys to view and search real-time transcript text directly in vTestify's virtual deposition platform. This is especially important in large and complex cases where attorneys must make key strategic decisions on the fly in response to actual testimony.
"Court reporters have provided real-time transcript text for more than two decades during in-person proceedings, but until now, that essential capability has been a cobbled together solution for users of videoconferencing solutions," said Mike Hewitt, president of vTestify. "Our users were logging into our platform, and then logging separately into CaseViewNet, which took additional time at the beginning of each deposition, required them to use two tools at once, and typically involved the use of multiple screens. The integration of vTestify and CaseViewNet eliminates these distractions from the substance of the case and streamlines the access to these services by providing participants with direct access to everything they need in a single place."
The integration will be available to all clients who use either the white-labeled or branded versions of vTestify's virtual deposition platform. For more information, go to https://vtestify.com/contact-us/.
About Stenograph
Stenograph, LLC provides top-quality solutions that allow for efficient capture, preservation, and accessibility of verbatim records. For more than 80 years, Stenograph has led the industry in technical innovation, quality, and exceptional service. Learn more at www.stenograph.com.
About vTestify
vTestify is a virtual legal solution that enables attorneys and court reporters to seamlessly conduct secure remote depositions and other legal proceedings. Since 2015 vTestify has sought to innovate virtual and hybrid proceedings by developing an all-in-one, purpose-built digital platform for the legal industry. Learn more at www.vtestify.com.
Latest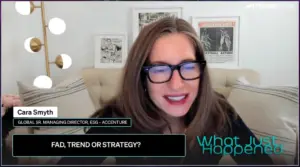 November 30, 2023
The world is in an era where sustainability and responsible retail business practices are increasingly crucial. For the latest episode of "What Just Happened," host Christine Russo further explored the hows and whys of this pressing issue by interviewing Cara Smyth, Global Senior Managing Director for ESG and Responsible Retail at Accenture, and Chair […]
Read More