The Effect of COVID-19 on Stenography
COVID-19 pandemic affects all aspects of professional and personal life. But what toll does it take on a profession that predominantly relies on live settings, such as stenography? Host Daniel Litwin tapped Anir Dutta, President of Stenograph, LLC, for his perspective on the crisis, and how the industry is dealing with such rapid change.
"The most important part of a stenographer's job is in the room," Dutta said. "That's a critical value they bring to the process of a courtroom setting." With the onset of the COVID-19 pandemic, typical stenographer workplace environments are not happening. Many court cases are delayed and not happening in a room environment at present. Most of the work occurring switched to online, and that means the practice of stenography has had to adjust. Dutta pointed out this is a change for the entire legal system, and the challenge is how a stenographer utilizes technology to add the same value-add that occurs when they are in the room doing live depositions.
Because the move to online is such a seismic shift for the industry, Dutta said Stenograph, LLC was committed to helping stenographers with assistance, from products to aid with doing work online, to technical support. "We are getting a lot of calls from our customers trying to understand online stenography products, like CaseViewNet, that allows for this type of remote work setup." Stenograph, LLC is proactively reaching out to its customer base to arrange training sessions, so they have all the needed support to make it through this challenging period.
Follow us on social media for the latest updates in B2B!
Twitter – @MarketScale
Facebook – facebook.com/marketscale
LinkedIn – linkedin.com/company/marketscale
Latest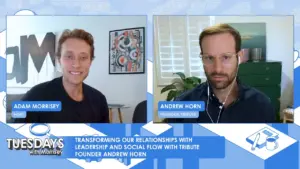 November 28, 2023
Can relationships be transformed through leadership and social flow? Navigating the intricate web of digital relationships can be a tricky proposition. Tuesdays with Morrisey's Adam Morrisey uncovers the transformative impact of emotional recognition in the workplace with Andrew Horn, the mastermind behind Tribute. This podcast edition unravels the story of a platform redefining how […]
Read More