Sustainability is More than Green Power
As governments and corporations look for ways to reduce their carbon footprint, Eric Dunford, Director of Sustainability for CarbonCure, knows of a solution to help these entities meet their needs when it comes to construction projects.
Dunford joined host Raymond Hawkins to talk about CarbonCure's process for introducing recycled CO2 Into fresh concrete to reduce its carbon footprint without compromising performance.
One of the challenges to achieving sustainability in concrete is the cementing agent, which provides approximately 90% of the carbon emissions from the material.
"The process necessary to create cement causes a chemical reaction that generates CO2," Dunford said. "What CarbonCure is doing is taking a portion of CO2 from a post-industrial source, reintroducing it to concrete as it is mixed at the plant, and, as a result of that reintroduction, it will then chemically reform back as calcium carbonate or limestone."
This process reclaims CO2 that would typically go into the atmosphere and traps it into the concrete, where it will stay in an embedded form for the entire lifespan of that structure.
Dunford notes the CarbonCure process doesn't 100% eliminate CO2 from the production process of cement. Still, it does take away a portion of generated CO2 destined to be a pollutant. It uses it in a way that benefits the creation of concrete while lowering overall carbon footprint.
An added benefit to concrete made with the CarbonCure process is the injected carbon strengthens the concrete.
"By using this approach, you can use less raw materials and make the same end product in concrete," Dunford said.
Be sure to subscribe to our industry publication for the latest news, videos, and podcasts in the Software and Technology Industry.
Twitter – @MarketScale
Facebook – facebook.com/marketscale
LinkedIn – linkedin.com/company/marketscale
Latest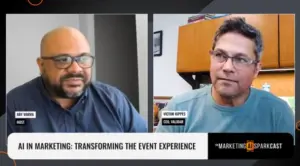 November 28, 2023
AI has been gradually changing the landscape of event technology at a very rapid pace. In an industry where staying ahead of technological trends is crucial, AI's impact on marketing and event management has become increasingly significant. As witnessed in the rise of account-based marketing and enhanced personalization, AI is effectively reshaping how events […]
Read More