The Challenges Employers Face in Attracting and Hiring Talent Today
Attracting and hiring talent is never easy; it is not an endeavor to be taken lightly. But one would be hard-pressed to find an environment where attracting and hiring the right person for an organization was as competitive as it is today. Dr. Patricia Connolly, Ph.D., CEO and Partner at SMC Squared, said, "There are so many companies out there seeking employees, and employees have a lot of choices."
And with an estimated 11 million job openings in the US Labor market, recruiters are finding extreme ways to hire, including above-market salaries, hiring bonuses, and on-the-spot offers. And if an organization believes it already has talent, be on the lookout. The need to fill companies with the best talent makes proactive recruitment an aggressive trend. Recruiters aren't waiting for candidates to find their company; they actively pursue leads on LinkedIn and other social resources.
Remote work is another facet of this complex hiring puzzle that companies must factor into their hiring approaches. Connolly said companies should consider remote work policies when determining their interview processes. And no matter what the remote work policy is at a company, it could be a determining factor for talent. A Harvard Business Review article from March 2022 suggests that utilizing remote and flexible talent could benefit a large organization, from lower costs to accessing a larger talent pool not confined by geography.
Connolly believes there is a behavioral economics component to talent acquisition that companies need to keep in mind. "There are the factors around the economics of the offer and what that looks like, but there is also the people side of it; the psychology, the emotional, the cultural, the social factors that need to be factored, in addition to inflationary factors, and what's going on with the state of our economy."
There are some tried and true pieces of advice Connolly offers when working with companies on global recruitment. No matter what talent needs acquiring, organizations should consider these concepts: Company brand, company culture, and career path. Candidates need to understand the company's brand and culture and if they align with their interests, goals, and values. A fit is a fit if it's mutual. "Finally, it's a career. How is this person going to fit? How is this person going to fit into your team, and where is that person's career development going future, and being able to paint that picture and discuss that."
It's critical to focus on talent acquisition strategies now because the forecast isn't going to get easier for recruiters anytime soon. A robust jobs market expects to continue throughout the remainder of 2022. The job numbers for July 2022 show an increase of 528,000 jobs with an increase in wage growth. While growth may slow in the coming months, the market for attracting the best talent will always be hot, and building a healthy approach today will ensure hiring that perfect fit stays out of a competitor's hands.
Reach out to Patricia Connolly on LinkedIn.
Latest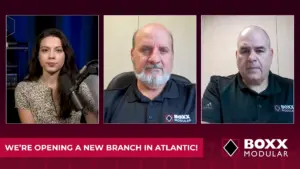 December 4, 2023
In an era where construction innovation is reshaping the industry, modular construction's growth continues to rise. In this episode of Built Modular, Boxx Modular's strategic expansion into Moncton, Atlantic Canada takes center stage. Host Gabrielle Bejarano welcomes Charles Landry and Ray Girouard to explore the implications of this venture. Bejarano, Landry, and Girouard discuss […]
Read More