Nokia Today: The Current State of US Policy on 5G
Brian Hendricks, Vice President of Policy and Government Relations for Nokia joined Marianne Strobel, Head of Customer Marketing and Communications, North America, for Nokia to discuss the current state of US 5G policy. Hendricks said the US is making every effort to ensure the rapid deployment of 5G networks as the worldwide race to deploy 5G first continues.
The first couple of years of 5G focused on domestic deployment, but Hendricks said that's shifted. "About a year and a half ago the focus turned to the trustworthiness of the supply chain, the suppliers, and also what was happening internationally in the selection of vendors the US deemed potentially not trustworthy in networks that carry a lot of traffic between the United States and allied nations." These concerns launched a substantial diplomatic effort to determine guidelines for trustworthy suppliers, including building up the US' industrial base of suppliers in this area.
As for current US policy, Hendricks believes there are financial tools available to bolster western infrastructure if the administration decides to move in this direction. Research & development is another crucial component for winning the 5G deployment race. "One reason China made such an explosive, out of the gate move with 5G was they placed a substantial amount of money into research & development, and support, whereas the private sector largely funds western companies," Hendricks said. "There are many opportunities for the United States government to provide research & development support, and tax benefits to incentivize further investment in standardization and contributions to standards."
Be sure to subscribe to Nokia Today on Apple Podcasts and Spotify.
Follow us on social media for the latest updates in B2B!
Twitter – @MarketScale
Facebook – facebook.com/marketscale
LinkedIn – linkedin.com/company/marketscale
Latest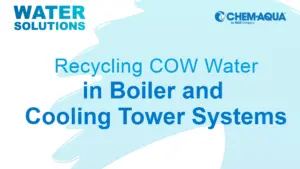 December 7, 2023
For the latest episode of ChemAqua's Water Solutions podcast, the focus was on an innovative approach to water conservation in the dairy industry. The show examined the potential of reusing Condensate of Whey (COW) water, a byproduct of dairy processing, and highlighted some of its economic and environmental benefits. Hosted by Dani Waddell, the informative […]
Read More