The Growing Importance of Invisible Payments and a Seamless Customer Experience
Invisible Payments – when taken literally, these two words may seem somewhat obscure; however, the term actually refers to an intuitive purchase experience. For instance, the 'buy now' buttons on Pinterest and Instagram that allow purchases without leaving the app or effortless payment transactions facilitated via the voice assistant of a smart home device, or even smart wristbands used by hotels and resorts, music festivals, and theme parks that enable convenient payments at any POS on property.
In short, Invisible Payments are those that don't require customers to enter additional credentials or provide further authentication, supporting the on-the-go payment experience consumers are increasingly prioritizing.
What does that mean for the consumer? Invisible Payments take cash, credit and debit cards, wearables, PINs, POS terminals, and card readers out of the ecosystem, allowing consumers to pay via a virtual wallet.
The Growing Importance of Invisible Payments
Invisible Payments have essentially entered the conversation in three waves:
1. First, digital and mobile wallets, like those associated with Apple Pay, gave users the option to pay using a mobile device.
2. Then, seamless transactions entered the landscape, offering consumers ways to automatically and seamlessly pay through apps and other methods that eliminate the checkout process completely.
3. Finally, the third wave centers on connected commerce, which aims to integrate unique aspects of consumers' lives into a single, seamless experience via the Internet of Things (IoT), such as the MasterCard-IBM-General Motors collaboration to create versatile in-car payment systems using vehicle consoles and voice-enabled assistants.
The popularity of Invisible Payments is on the rise – in fact, by 2022, these payments are expected to total $78 billion.
With that in mind, let's look at how these payments are shaping a continued customer trend for seamless and frictionless payment experiences.
Tech-Savvy Consumers Will Continue to Forge the Way Forward
Consumer experiences have always made up the heart of the payment's evolution, and the rise of Invisible Payments won't shift that. Tech-driven consumers and businesses will continue to demand a frictionless payment experience, and payment solutions that fall short of that goal will find themselves increasingly shut out.
Invisible Payments Bring Merchants and Financial Institutions Together
The upsurge of Invisible Payments will lead to more partnerships between financial institutions and the merchants working directly with consumers – for payments to be truly instantaneous and invisible, these entities will have to collaborate to ensure that digital integration is both supported and seamless.
Security Remains a Key Point of Emphasis
While Invisible Payments are preferred by the evolving consumer, they only work if consumer confidence in the security, framework, accountability, and responsibility of all participants is clearly defined and understood by all parties.
Invisible Payments Will Drive Further Innovation
The technology to make automatic Invisible Payments work on a grand scale – sensors, tokenization, machine learning, data analytics, advanced cameras, connected cars, voice, and more – is staggering. So are the eventual capabilities of Invisible Payments. As merchants' and payment services providers' capabilities expand, even more, engaging and unique customer experiences will be made possible.
Overall, it's clear that the invisible payment movement is accelerating, and merchants, financial institutions, and payment solutions providers that don't keep pace with the innovations to come will be left behind.
However, consumers may have concerns about cluttered home screens and app-hopping that could make this payment type less convenient than current methods.
Fortunately, ever-advancing, user-friendly technology will help grow consumer confidence and pave the way to total invisible payment adoption, ensuring that Invisible Payments will be a part of every shoppers' day-to-day lives.
To learn more about Amaryllis's payment solutions, visit amaryllispay.com/platform/.
Latest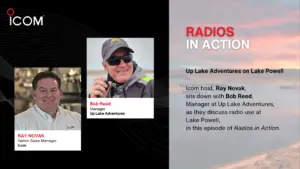 November 29, 2023
Delving into the serene beauty of Lake Powell, the Icom Podcast "Radios in Action" pairs the thrill of personal watercraft adventures with the crucial use of marine radios. Host Ray Novak and Bob Reed, the Manager of Up Lake Adventures, discuss the enthralling experiences offered by Up Lake Adventures in Utah's majestic landscapes. In […]
Read More