The Impact of Ergonomic Solutions in Offices
MarketScale's Daniel Litwin was joined by Eureka Vice President of Sales and Marketing Mike Whaley to discuss Eureka's presence at CES 2020, the benefits of ergonomic products, standing desks and more, and the impact of those solutions on the work environment.
Whaley highlighted Eureka's ergonomic armrests, keyboard trays, gaming chairs and more, which all drew heightened interest at CES.
An interesting note about gaming chairs, Whaley said, is that they're moving away from the stereotypical, living-room use – in fact, Whaley said the majority are sold to office environments, where they deliver extended comfort beyond traditional, standard office solutions.
On a wider scale, Whaley said ergonomic products such as sit-to-stand desks have been shown to improve employee productivity through greater comfort and increased focus.
"The big saying in the industry is, 'Sitting is the new smoking,'" Whaley said. "They've got studies proving that, by not being mobile, you're more prone to cancer. From a productivity level, it helps in a number of ways."
Litwin and Whaley also highlighted the relationship between ergonomic solutions and wider trends in flexible work spaces, how ergonomic solutions can aid in worker attraction and retention, and more.
Latest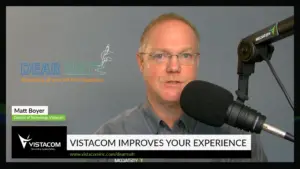 December 11, 2023
In a time when the AV industry supply chain faces unprecedented challenges, understanding its current status and future trajectory is crucial. In this week's segment of "Dear Matt," presented by Vistacom, host Matt Boyer, the Director of Technology at Vistacom, brings his over 30 years of experience in the audiovisual industry to the status […]
Read More