The Importance of Selling the Sizzle of the Printing Industry to Attract Young Talent
Printing has always been in demand and is still relevant to date. According to statistics, "the global print-on-demand market size was valued at USD 4.90 billion in 2021 and is expected to expand at a compound annual growth rate (CAGR) of 26.1% from 2022 to 2030."
However, the printing industry is not experiencing an influx of young talent. What strategies can be adopted to ensure younger talents see the beauty of working in the industry?
On today's episode of Baldwin's "Unlocking Your Potential" Podcast, host Gabrielle Bejarano sits down with Adriane Harrison, the Vice-President at Printing United Alliance, Mike Nelson, Engineering Manager at Baldwin Technology, and Rich Bennett, the President at Baldwin Technology, to discuss how to attract young talents to the industry.
The trio discussed:
What makes printing glamorous and how to present it to the younger talents
The job satisfaction associated with the printing industry
How to approach Gen Z (the younger talents) on the evolution and benefits of working in the printing industry.
"Printing is fun, cool, and high-tech, and contrary to popular misconceptions, a printing shop is most bright, clean, and beautiful. Another perk of working in the printing industry is seeing things transform all day, which is really satisfying. This improves job satisfaction as you can immediately see the outcome of your efforts. One strategy to attract the younger talents is uploading videos that show the cool processes involved on different social media platforms," explained Harrison.
"The print industry is not excluded from the evolutionary and revolutionary process. Previously, about 4-6 people are required to run the press machine. However, now you only need one person for the job. The entire process has become more digitalized," noted Bennett.
"First, the creativity of the industry is something that always amazes it. We work on various systems that use various processes in the engineering discipline. One could enjoy various paths coming into the print industry because it allows for diversification," stated Nelson.
Adriane Harrison is the Vice-President of Printing United Alliance. She is a business person with expertise in human relations, operations, programming, organizational structure, development, and training. Adriane brings valuable knowledge and expertise, having worked in association, nonprofit, law, securities, and corporate sectors.
Mike Nelson is the Engineering Manager at Baldwin Technology. He has worked with the company for over 8 years.
Rich Bennett is the President of Baldwin Technology. He has served in various roles for over seventeen (17) years at Baldwin Technology. Bennett has also worked as a plant manager at Stahl Speciality Company. He also has eight (8) years' experience as Supervisor at McKissick Products.
Latest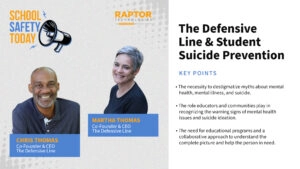 September 22, 2023
Student suicide prevention is a paramount concern among mental health providers. For one organization, student suicide prevention is more than a concern: it's their mission. The alarming rise in mental health crises among youth has become a pressing concern in recent times. With the complexities of modern life and the challenges of the digital […]
Read More