The Product Strategy Process (Part 3)
In the final episode of a three-part series on analyzing and building actionable tips for developing mobile applications, platforms and digital or mobile experiences, Host Daniel J. Litwin welcomed back a panel of experts from Shockoe. This episode connected the dots between many of the ideas presented in the first two episodes, as well as how impact is measured.
The panel once again included Chandler Tyler and Mason Brown, both product strategists, as well Toz Grewal, a product analyst. The team argued that centering a measurable impact from start to finish can elevate the entire process.
"We outline early on the goals that the product should have," said Tyler. "A lot of times these overlap with business goals for the product… but we want to find those early on, and we want to figure out how we are actually going to measure against those goals."
Impact measurement is a term that penetrates every step of Shockoe's strategy. For instance, Grewal gave the example of how a well-designed product can reduce call volume at the call center.
What do we want the outcome to be, not the output," Brown further clarified, speaking to how it's important to determine what a company desires as its end goal.
Looking to the future, the panel also discussed what challenges might be coming on the horizon. The team mentioned data regulation and privacy as the most important issues, and the goal is to find a way to capture data while keeping the customer's trust.
To wrap up the final episode, Grewal stated, "We don't care who you are or where you're from or what you did, as long as you use our products meaningfully."
Latest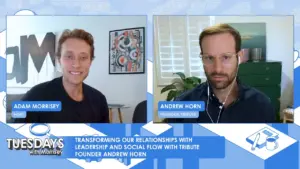 November 28, 2023
Can relationships be transformed through leadership and social flow? Navigating the intricate web of digital relationships can be a tricky proposition. Tuesdays with Morrisey's Adam Morrisey uncovers the transformative impact of emotional recognition in the workplace with Andrew Horn, the mastermind behind Tribute. This podcast edition unravels the story of a platform redefining how […]
Read More