The Year's Biggest Drone Regulation Developments According to the FAA
There have been many exciting changes in the drone world in the last year regarding policy and regulations. Executive Director of the UAS Integration Office for the FAA Jay Merkle, a returning guest, spoke with Drones in America host Grant Guillot regarding the milestones and happenings.
"It's been a big year," Merkle began. Movement around drone policy has been rapid, and the FAA and all stakeholders learned a lot.
"The Airworthiness policy update was substantial. We issued the third carrier for Amazon in August 2020," Merkle shared. The airworthiness certification process is extensive, which looks at the system as a whole on a case-by-case basis.
Another major shift was the closure of the IPP (Integration Pilot Program). Merkle noted much was learned, but there was still more to do.
"We launched a new program, BEYOND, and it works differently than IPP, which was very wide. BEYOND will focus on Beyond Visual Line of Sight operations. It's the central thrust of everything we're doing in the drone world," Merkle noted.
BEYOND also has an advisory and rulemaking committee, which began in July 2021. It's an opportunity for stakeholders to advise the FAA. Merkle reported that the first phase of scoping and parameters were complete. Phase two is underway and will deliver actual recommendations to the FAA.
New drone rules also took effect in 2021. Those included areas of Operations Over People, night operations, and recurrent testing. "The Remote ID is now a standard that broadcasts the location of the drone. It's like an electronic license tag for your drone," Merkle explained.
More Stories Like This:
Latest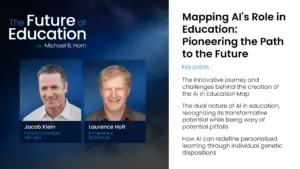 October 2, 2023
Mapping AI's role in education should be a critical step in bringing together innovative technology-based solutions with the expertise of human educators. With rapid advancements in artificial intelligence and an increased reliance on technology-driven educational solutions, the education landscape is on the brink of a significant transformation. AI promises highly personalized learning experiences, efficient administrative […]
Read More