When Beignets Fly: Zing Drone Delivery Sees Famous Treats Cross the Mississippi
Deep in the heart of the jazz scene, the saxophones aren't the only things buzzing.
This week, Grant Guillot takes Drones in America to the Big Easy to witness what is possible with drone deliveries — right now.
As part of an investor event, Zing Drone Delivery performed a delivery of Cafe du Monde's famous beignets from the Moonwalk alongside the Mississippi River across the water to the Algiers Point neighborhood – and MarketScale's Drones in America team was there.
Host Grant Guillot and MarketScale are set to release a special episode of Drones in America focusing on the event, which saw Zing make five successful drone deliveries – four of which occurred between civil twilight and nightfall in spite of deteriorating weather conditions brought on by fog.
A delivery driver can make the same trip from the Moonwalk to Algiers Point – but it takes upwards of 15 minutes or more each way depending on the amount of traffic encountered.
Zing made the nearly half-mile flight across the river in just two minutes.
The event debuted a winch specifically designed for the DJI Mavic 2, a popular choice for drone pilots and one that could play a large role in the future expansion of drone delivery.
"Companies have overlooked what is possible in terms of drone delivery under Part 107 and are already preparing for Part 135 (beyond visual line of site). We want to bring attention to what is currently possible and how drones can fill gaps in the delivery marketplace right now," said Ian Annase, Founder and CEO of Zing.
Follow us on social media for the latest updates in B2B!
Twitter – @MarketScale
Facebook – facebook.com/marketscale
LinkedIn – linkedin.com/company/marketscale
Latest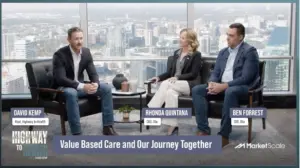 December 7, 2023
As of recent times, the healthcare industry has been progressively shifting towards value-based care, a model that emphasizes patient outcomes over the quantity of services delivered. This transition represents a significant shift that promises to enhance patient experiences and outcomes while controlling healthcare costs. With a growing emphasis on this approach, especially over the […]
Read More