Unlocking Potential: How LED UV changed the game for Atlanta's Tucker Castleberry
LED UV curing is emerging as the gold standard in printing over the past decade due to the significant quality and process improvement it delivers. The technology provides all the advantages of traditional UV curing while providing solutions to many problems printers encounter with heat-set drying.
Tuck Tucker, President of Tucker Castleberry, and Kent Tucker, Vice President at Tucker Castleberry, joined Grieg Heimbuch, Director of Strategic Accounts at Baldwin Technology, to discuss their partnership.
Tucker Castleberry is an Atlanta, GA-based offset and digital printer serving commercial customers since 1949. Tucker Castleberry retrofitted its sheet-fed printing process in 2020 with Baldwin's AMS Spectral UV, and they've knocked it out of the park ever since. So, why LED UV over standard print drying methods? Heimbuch said the answer was easy.
"Someone like Tucker Castleberry, they're looking to get work through their plant faster," Heimbuch said. "They're looking to get work into the bindery quicker or turn it over and run it back through the press quicker. And LED curing allows you to do all those things. The work is quicker to revenue. You're going to be able to bill that job quicker than you would if you didn't have LED UV on the press."
And a bonus for both the environment and the bottom line is LEDs' quick drying process equals energy savings. There is also very little heat involved in the process. LED curing requires fewer lamps than standard UV drying processes. Less heat build-up in the stacks allows for instant handling by operators.
Kent Tucker added that the system prints a lot cleaner too. "Because the ink dries immediately, there's a lot less dot gain. We've seen a cleaner print from our dots." And he said the reduced heat emissions from the presses made a big difference in the comfort level of employees, especially during those hot Atlanta summer months.
Latest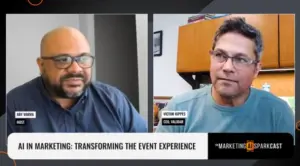 November 28, 2023
AI has been gradually changing the landscape of event technology at a very rapid pace. In an industry where staying ahead of technological trends is crucial, AI's impact on marketing and event management has become increasingly significant. As witnessed in the rise of account-based marketing and enhanced personalization, AI is effectively reshaping how events […]
Read More