Video Producers Say Generative AI for Scriptwriting is a Great Brainstorming Tool
Since the public launch of OpenAI's ChatGPT late last year, AI has been having its moment in the spotlight. While aspiring sci-fi authors are using the viral tool to write short stories (prompting one magazine to stop accepting submissions temporarily), students are using it to give a first pass at their essays. In the business world, sales and marketing pros has been using it to draft emails, while operations leaders are weighing generative AI's role in customer service communications. Now, both media industry pros and AI solutions innovators have another writing-heavy project type in their sights: Tsing generative AI for scriptwriting.
DeepMind Technologies, a subsidiary of Alphabet Inc., recently launched Dramaton, an AI tool that promises to help writers draft and rewrite specifically screenplays and scripts. However, while the tool can come up with characters and plot lines by following simple prompts, it is no replacement for human creativity. In fact, it has been designed to work with human intervention.
Notably, Dramaton is not the only such tool in the market. AI as a supplementary tool for content creation is taking on many forms, including Wistia's example of combining ChatGPT for script writing with Synthesia for avatar and voice deepfake generation.
Mike Vannelli, head video producer at video creative agency Envy Creative, who has directed more than 1,200 commercials, explains how his team is already finding useful ways to leverage generative AI for scriptwriting. He's finding, like most proponents of AI tools, that generative AI isn't replacing creative work but rather acting as an enhancer for the creative process.
Mike's Thoughts:
"We're a video production studio, and we actually use ChatGPT as well as a couple other writing softwares to help us with things for scripts. Now, we don't actually use it to write the full script. We actually do write the full script ourselves, but we do use the AI tools to help us with certain things if maybe we can't think of [them]. So, for instance, we were doing a video for a bicycle company and we needed bicycle specific jokes for the video and we really couldn't think of any, so we went on ChatGPT and we wrote in some prompts asking them to write a bunch of jokes for bicycles or bicycle-related, and we actually used a couple of those for the scripts, whereas it probably would've taken us a long time to either think of them ourselves or to look them up online."
Latest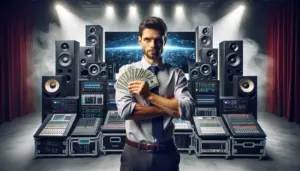 December 8, 2023
Mastering AV sales strategies in a global professional audio-visual (Pro AV) market, poised to reach $79.2 billion by 2028, requires much attention to detail. The surge in demand from corporate, government, and institutional sectors, driven by the need for enhanced productivity and efficient working environments, gives AV sales pros a lot of opportunity. In […]
Read More